They're back. Sri Lanka's premier folk-fusion band, Alien Accent will be back on stage having been out of the music scene for almost four years. The band currently consisting of D. K. Wijesinha and Dillain Joseph, will be backed by some of the country's finest musicians who have come together to support a worthy cause.
Alien Accent together with their star spangled band line-up will be performing on three days, December 18, 19 and 20 at the Bishop's College auditorium and all proceeds collected will be donated to the 'One Trust Fund', which is dedicated to the rehabilitation of children in the north.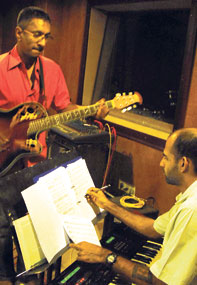 Getting it right: DK with Eshantha
Providing Alien Accent with consummate backing, the band pieced together exclusively for the concert consists of Eshantha Peiris, who apart from being the music director for the concert is a well known keyboardist whose prowess in playing piano can give you goose bumps. The drummer, Harshan Gallage's expertise at creating scintillating rhythms from a set of drums is well beyond his years.
Listening to him play you'd find yourself grappling with the idea of him being as young as 19. Upula Madushanka will be on bass, Ranil Gunawardene on guitar and Rakitha Wickramaratne on percussion, all of whom are well-known in the local music industry. The backing vocalists for the concert are Pravina, Kris and Panduka.
Guest performances have been organised for the concert as well, and will feature drummer Aruna Siriwardhana who D.K describes as the 'Godfather' of Alien Accent."He mothers and fathers the band. Aruna is fiercely protective of the band," grins DK, adding "it was he who organised this concert". Other guest performances include flautist Sureka Amerasinghe, oriental drummer Jananath Warakagoda, mandolinist Anthony Surendra, tablist Rathnam who will also be playing the ghatam and one of the founding members of Alien Accent Suresh Jayawickrama as vocalist and guitarist.
Husni Ghouse, the other founding member of Alien Accent is said to be stepping out of his 'retirement' to perform at this particular concert but DK and Dillain shrug their shoulders albeit with a smile when asked to lift the cloud of doubt about Husni's appearance. So let's keep our fingers crossed.
Alien Accent will perform some of their previous hits as well as some of the songs that have been made for their upcoming album, three of which will be performed for the first time. "The (new) songs are slightly different. I found that most of the older songs have a more dark sound. They're more melodic with dark concepts. For the new stuff I wanted to offset the dark sound and move a little more into the brighter side," explains DK.
In the process, they've remained true to their roots and retained their folk-fusion style of music that their fans have come to love and identify the band with. The first band to incorporate traditional instruments in their music, Alien Accent has tastefully and subtly spun local sounds into their music since they started out instead of using it as a gimmick as widely done today, according to DK.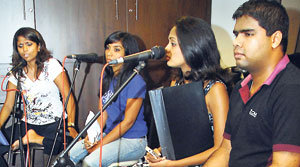 Dillain with backing vocalists Kris, Pravina and Panduka
So has the Alien Accent sound changed with the addition to the band of Dillain ? The first female vocalist for the band that's been around for two decades, joined six years ago and reassures fans saying, "Alien Accent is not just the two of us. It's a band with a ghost running it. All the previous members still share advice and direction, which we take graciously so it still has the influence of the original members."
The 'One Trust' concert will be held on December 18, 19 and 20 at the Bishop's College Auditorium. Tickets priced at Rs. 1,000, 1,500, 2,000, 2,500 and 3,000 will be available at Cargills outlets at Nawala, Nugegoda, Dickman's Road, Staples Street, Colpetty and Park Road until December 17 and from the 18th at the Bishop's College auditorium. All proceeds will be donated to the 'One Trust Fund' which is the CSR project of the main sponsors Cargills Magic. The other sponsors include, Yes FM, Daily Mirror and the Sunday Times.