The Visakha Vidyalaya Old Girls' Association (VVOGA) recently celebrated its 75th anniversary with a gala get-together of its members at High Tea at the Galle Face Hotel. The highlight of the evening was the felicitation ceremony held for distinguished past Visakhians who were presented with platinum awards for having brought honour to both their school and country.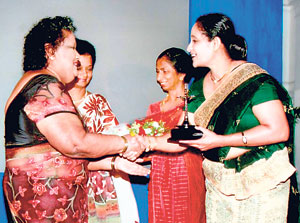 Sumitra Peries receiving the Life Time Achievement Award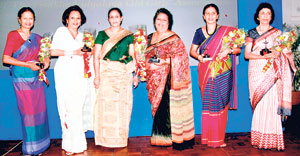 Nominations for these awards were received from the public and ten winners were selected by a panel of eminent judges who described the winners as being the "Best among Equals".
The winners of the Platinum Awards were Mrs. Upeka Chitrasena de Silva (Performing Arts), Dr. Binodh de Silva (Science & Technology), Mrs. Nela De Zoysa (Architecture), Mrs. Shirani Damindra Dias (Industry & Entrepreneurship), Dr. Shanika Karunasekera (Engineering), Dr. Kamini Mendis (Medicine & Health), Prof. Ira Thabrew (Education), Mrs. Anoja Wijeyesekera (Community Service), Mrs. Kishani Jayasinghe Wijeysekera (Performing Arts) and Dr. Anula Wijesundere (Medicine & Health).
The awards culminated with a prestigious Life Time Achievement Award, initiated and presented by the VVOGA in recognition of a past Visakhian who has won acclaim for achievements spanning almost a life time and bringing honour to her alma mater.
The proud recipient of this Life Time Achievement Award was veteran film director Mrs. Sumitra Peries.