LOS ANGELES, Dec 12, 2009 (AFP) - The fallout continued Saturday for Tiger Woods who says he will step away from the sport to try and fix the damage his infidelity has done to his relationship with his wife and family.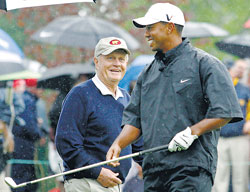 Tiger Woods and Jack Nicklaus laugh on the tee during the Memorial Skins Game in Dublin, Ohio in this June 3, 2009 file photo. Nicklaus, the fellow golfer Woods would most like to emulate, said on Thursday he believed his younger colleague would "figure out" a way through the scandal engulfing his private life, local media reported. REUTERS
Woods said he was taking an "indefinite break" from the PGA Tour and apologized, pleading for forgiveness and vowing to become a better husband to his wife, Elin, and father to his two young children.
"It may not be possible to repair the damage I've done, but I want to do my best to try," Woods wrote Friday on his website. "I am deeply aware of the disappointment and hurt that my infidelity has caused to so many people, most of all my wife and children." Woods, who has not been seen in public for the past two weeks, has a two-year-old daughter and a 10-month-old son with Elin.
"After much soul searching, I have decided to take an indefinite break from professional golf. I need to focus my attention on being a better husband, father and person," he added.

PGA Tour commissioner Tim Finchem said Friday they would not attempt to rush Wood into returning to the sport.

"His priorities are where they need to be, and we will continue to respect and honour his family's request for privacy," Finchem said. "We look forward to Tiger's return to the PGA Tour when he determines the time is right for him." Ten women have been romantically linked to the billionaire golfer, whose private life has come under the glare of public scrutiny since he crashed his car in late November.

Woods was taken to hospital on November 27 after hitting a fire hydrant and a tree, two days after a tabloid reported he was having an affair with New York club hostess Rachel Uchitel.

Woods, who turns 34 on December 30, was first linked to Uchitel, who has denied the affair.
Cocktail waitress Jaimee Grubbs, 24, played a voicemail, which she claims to be Woods talking, to support her claim they had a 31-month relationship.

Also on a list compiled by FOX News are porn star Holly Sampson, 36; Kalika Moquin, 27, a Las Vegas club manager; model Jamie Jungers, 26; Mindy Lawton, a 33-year-old waitress from Orlando; and three unidentified women, two from British reports and another waitress from Orlando.

"I want to say again to everyone that I am profoundly sorry and that I ask forgiveness," Woods wrote.
"Again, I ask for privacy for my family and I am especially grateful for all those who have offered compassion and concern during this difficult period."