COPENHAGEN, Dec 12, (AFP) - A planetary chain of protests headed by a mass rally in Copenhagen cranked up the heat on problem-plagued talks to build a pact to roll back climate change.
The centre of the Danish capital was in virtual lockdown, with thousands of police deployed or on standby ahead of a six-kilometer (four-mile) march that would take green and anti-capitalist demonstrators to the UN conference venue.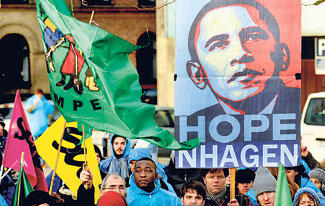 A demontrator holds up a placard featuring US President Barack Obama during the United Nations Climate Change Conference in Copenhagen on December 12. Environment ministers sought to boost UN climate talks after the marathon meeting ran into turbulence, including a tough exchange between the United States and China. AFP
"All week we have heard a string of excuses from northern countries to make adequate reparations for the ecological crisis that they have caused," said activist Lidy Nacpil of the Philippines, from a group called the Jubilee South Coalition.
"We are taking to the streets to demand that the ecological debt is repaid to the people of the South."Within the Bella Center congress hall, Nobel prizewinner Archbishop Desmond Tutu was to lead children in creating "a sea of candles" representing a call from generations imperilled by climate change.
From Australia to the Arctic circle, protestors readied banners and chants, urging the 12-day marathon to meet the threat posed by Man's meddling with the climate system.
Scientists say rising concentrations of greenhouse gases -- mainly the invisible byproduct of burning oil, gas and coal -- are trapping solar heat, warming Earth's surface and disrupting weather patterns.
If these emissions fail to peak less than a decade from now, the world is doomed to more vicious droughts, flood, rising seas and storms, spelling hunger, homelessness and disease for millions, the experts say.
In Australia, organisers said around 50,000 people had taken to the streets nationwide, wearing sky-blue shoelaces in a call for a strong and binding agreement in Copenhagen.
In Hong Kong men, women and children marched, some dressed as pandas, while others held life rings bearing the slogan "Climate Change Kills. Act Now. Save Lives."Indonesians rallied in front of the US embassy in Jakarta calling for help for developing nations in reducing greenhouse gases.
A crowd chanted "US is the biggest emitter" and unfurled banners that read "US is the carbon mafia leader" and "Be a part of a legally binding agreement".
If all goes well, the 194-nation conference under the UN's Framework Convention on Climate Change (UNFCCC) will wrap up on Friday with a historic deal sealed by more than 110 heads of state and government.
It would commit major economies to actions that would curb their carbon emissions and set up a financial machine to generate hundreds of billions in dollars for poor countries most exposed to the ravages of climate change.
But since the start of the talks on Monday, progress has been negligible and the mood soured by finger-pointing.
Women in centre of climate solution: UN
Women bear the disproportionate burden of climate change, but have so far been largely overlooked in the debate about how to address problems of rising seas, droughts, melting glaciers and extreme weather, says The State of World Population 2009, released this week by the United Nations Population Fund.
"Poor women in poor countries are among the hardest hit by climate change, even though they contributed the least to it," says UNFPA Executive Director Thoraya Ahmed Obaid.
The poor are especially vulnerable to the effects of climate change, and the majority of the 1.5 billion people living on $1 a day or less are women. The State of World Population 2009 argues that the international community's fight against climate change is more likely to be successful if policies, programmes and treaties take into account the needs, rights and potential of women.