A Massachusetts jury has charged a woman of 98 with suffocating her 100-year-old nursing home roommate after complaining of too many visitors. Police in Dartmouth initially believed Elizabeth Barrow had committed suicide but eventually recommended a murder charge against Laura Lundquist.
A judge ordered Ms Lundquist to be placed in a local hospital to assess her fitness to stand trial.
The women had been sharing a room for about a year when the death occurred.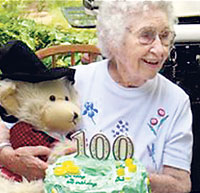 Elizabeth Barrow celebrated her 100th birthday at her son's home in August.
Ms Barrow was found with a plastic bag tied around her head in her bed at the Brandon Woods nursing home on 24 September. "We're devastated," her son Scott Barrow told Boston's WCVB-TV .
"I mean, my mother was well-loved. She loved everyone at the nursing home. She had a daily routine where she would go up and down the hallway and hug people who weren't as fortunate as she." Mr Barrow said that Ms Lundquist had complained to nursing home officials about the number of visitors his mother received, and had made "threatening" and "harassing" remarks to her.
The day before this happened we took her out for lunch at her favourite place and then we went shopping for winter clothes and so forth and she was looking forward to, you know, continuing her life ," he said. He had asked for the women to be separated, he added, but had been assured the two were getting along.
His mother, he was quoted by The Associated Press as saying, had told him she did not want to leave her room because that was where she and her husband of 65 years had lived for several years before he died in 2007.
Mr Barrow told WCVB-TV his mother had been alert, active and still going strong before her death.
A Superior Court judge ordered Ms Lundquist to be sent to Taunton State Hospital for an evaluation.
Her defence lawyer, Carl Levin, said she had a "long-standing diagnosis of dementia as well as issues of cognitive impairment".
"Her family is very saddened for the loss of Ms Barrow and they are also very saddened by what's happened," he added. "Without acknowledging her responsibility, it's a sad event for both families. It just really points to the issue of mental health with the elderly."
Were Ms Lundquist to appear in court, she would be one of the oldest people, if not the oldest, ever to face a murder charge in the US, the BBC's Kevin Connolly reports from Washington. - BBC