George Washington, one of the founding fathers of the United States, was a general who liberated his country from Britain.
Washington was the first President of the Independent United States of America. Initially, he was a soldier in the British Army in the Continental United States of America. He rose to become the chief of all colonial forces and helped the British defeat the French and their Indian allies in the Ohio Valley. His victories made him a national hero.
A couple of years later, he rebelled against the British when they increased taxation. When Britain decided to crack down on the rebellion, 12 of the 13 colonies called a Continental Congress in 1774 to respond to the British aggression. A year later, the Congress appointed Washington the chief of Continental Forces.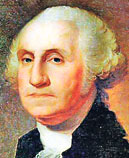 George Washington
Washington as the chief commanding officer of the Continental Forces liberated Boston, the capital of Massachusetts. Victory followed him to New York, New Jersey and Saratoga. The British retreated to the south. But Washington, realising that victory was imminent, organized his forces in the south. Finally, in the summer of 1781 Washington launched a massive attack that drove the British out of the United States and prompted Britain to sign a peace treaty in September 1783. Washington once again became a war hero and household name.
After the War of Independence, Washington, together with James Madison and Alexander Hamilton, called for a national meeting in Philadelphia to discuss a constitution. There they created a brand new constitution for the United States of America. An electoral college was set up and George Washington became the first President of the Independent United States in 1989. He was elected even for a second term.
Here is a lesson for those who say that General Sarath Fonseka cannot run a country. The other day Ven. Uduwe Dhammaloka Thera, MP, said that General Fonseka could not govern a country because he lacked experience. What a meaningless statement was that? I request the learned priest to read American history to understand how many Generals were elected as presidents. All of them were good presidents. Dwight Eisenhower, the five-star General who became the 34th President of the US, fought the German army and won World War II for his country. He was a highly-respected president. These generals never had previous experience in politics.
In a way, it is a plus point as most politicians are corrupt. Those who say a general cannot become a good President must read world history before making sweeping statements against General Fonseka.
Prof. J. Jinadasa