By Adilah Ismail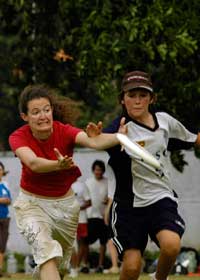 Action from a hotly contsted Frisbee game at Wesley College Grounds yesterday -Pix by Saman Kariyawasam
The first Serendiscity Ultimate Introductory Tournament was held at the Wesley College Grounds yesterday, as four teams battled it out amidst windy conditions to secure places in the final tournament.
The score stood at 9-6, as the White Team beat the Red Team and emerged winners in a thrilling final.
The winning team consisted of Chamath Ariyadasa, Alice Fredricks, John Fredricks, Lucy Holdaway, Knut Landsverk, Mark Lerwill, Richard Mundy, Alex Murphy, Luke Sanford and Ravin Weerewardena.

Ultimate, or more commonly known as Ultimate Frisbee, is played with teams of seven. Points are scored when a team completes a pass to a player standing or running in the end zone, on opposite sides of the field and similarly to netball, players cannot run with the disc. The game, while being highly competitive is self-officiated and relies greatly on the camaraderie between team players.

"I'm really happy with the turnout of the tournament," said Chenoa Stock, one of the few to first organize the game in Sri Lanka, explaining that plans to promote Ultimate among rural areas of Sri Lanka and obtain better equipment will be implemented in the future.

Ultimate, which is widely popular in America and Europe has been played in Sri Lanka since 2006.
The tournament is the first of its kind in Sri Lanka and was sponsored by Harpo Productions.