LOS ANGELES - Angelina Jolie is calling out the Obama administration for its approach to the situation in Sudan."Their policy, though, raises a number of questions," the star wrote in a Newsweek editorial. "How is the Obama administration's approach to Sudan an evolution of justice? In addition, when the administration says it intends to work to 'improve the lives of the people of Darfur,' I would like to know what that means, besides the obvious point that their lives could hardly get worse."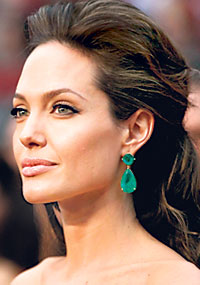 Angelina Jolie: Darfur at heart
The actress, a U.N. Goodwill Ambassador since 2001, has devoted much of her efforts toward work in the troubled Darfur region, including her role in the Jolie-Pitt Foundation.
Her editorial came in honour of Human Rights Day, noting past historical tragedies before settling on the Darfur crisis, which she writes has left "300,000 dead and 2.7 million people internally displaced."
"[The administration] has not yet announced any serious moves to enforce the decision of the ICC and execute its warrants," Angelina wrote. "There will be pressure on the United States and its partners to bring stability to Sudan, even at the expense of criminal accountability. Regardless of the rationale, the end would be the same: victims left without justice while perpetrators walk away."
However, the star said she supported the president's methods. "Like many Americans, I support the administration's willingness to engage diplomatically, even with regimes we abhor.
And I believe President Obama and his special envoy Scott Gration will do their best to bring peace to the region," she said. "I also hope we will act sooner and more powerfully to prevent future atrocities." - Omg.yahoo.com