Oman-based Milcris Pvt Ltd, headed by Sri Lankan CEO Millan De Silva, in a short period of time, has an amassed an annual turnover of over Rs 400 million, while its Sri Lankan staff accounting for 95% of the company's total staff strength remit over Rs 250 million annually to Sri Lanka.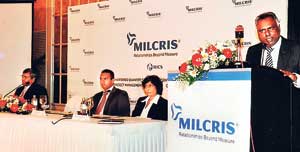 Picture from left -- Upul Jayasiriya – Head of Corporate Affairs, Minol de Silva – Commercial Manager, Udhyani Jayasuriya – Quality Assurance and Training Manager of Milcris. At the podium is Millan De Silva – CEO and Managing Director.
Backed by the Seven Seas Group of Companies in Oman, a conglomerate which has interests in oil, real estate and shipping, Milcris has emerged as a key player in the construction industry of Oman and its development. Milcris is also recognized by the Royal Institution of Chartered Surveyors, company officials told reporters in Colombo last week. CEO, Millan De Silva said his company was ready to take on work in his homeland and was confident that with the return of peace and the opening up of the north and East the time was ripe for Sri Lanka to take its place as a leading Asian economy.
"We aim to be the preferred Cost Consultancy service provider in the region and in the coming year hope to expand our services to Sharjah, Dubai, Abu Dhabi and Mumbai, as well as Sri Lanka. In fact in the coming year we hope to push our turnover up to Rs 750 million," Mr De Silva was quoted as saying in a press release issued at the media briefing. Milcris' Chairman is His Highness Sayyid Shihab Bin Tariq Al Said, a high profile Royal family member.
The company currently handled the cost consultancy for the construction of two new airports in Muscat and Salalah valued at US $ 4.5 billion, each with a passenger load of 12 and 2 million respectively per annum. "This is not the only project we are handling, though it is undoubtedly the biggest; we are also working on the new campus for the Dhofar university in Salalah valued at US $ 100 million, as well as a town development project which will be both residential and commercial in Salalah, valued at US $ 40 million," Mr De Silva said.