MOHALI, India, Dec 12, 2009 (AFP) - Yuvraj Singh took 3-23 and smashed an unbeaten 60 off 25 balls on his 28th birthday as India defeated Sri Lanka by six wickets on Saturday to draw the two-match Twenty20 series 1-1.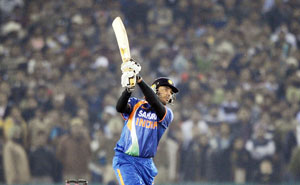 Indian cricketer Yuvraj Singh hits a shot during the second Twenty20 International match between India and Sri Lanka in Mohali on December 12, 2009. Sri Lanka won the first Twenty20 match in Nagpur on December 9
India, who lost the first match in Nagpur on Wednesday by 29 runs, chased down Sri Lanka's challenging 206-7 with five balls to spare at the Punjab Cricket Association ground here.

It was the highest successful chase in the shortest form of the game, surpassing South Africa's 208-2 against the West Indies in the World Twenty20 in Johannesburg in September 2007.

Virender Sehwag set up the record run spree with 64 off 36 balls with seven boundaries and three sixes, and skipper Mahendra Singh Dhoni chipped in with a quick fire 46.

But Yuvraj took the game away from the Sri Lankans with five sixes, the last off Angelo Mathews clinching the match for the hosts.

India, set a stiff target of 10.4 runs an over under lights, made a rollicking start when Sehwag and Gautam Gambhir hammered 58 for the first wicket by the sixth over.

Gambhir was run out for 21 attempting a third run, but Dhoni joined Sehwag to add 50 in 30 balls for the second wicket. Yuvraj plundered 23 runs in the 16th over bowled by seamer Nuwan Kulasekara, which included two sixes and two boundaries.

Sri Lanka's innings was boosted by a captain's knock from Kumar Sangakkara, who made 59 from 31 balls after winning the toss and electing to bat. The left-hander, who hit a superb 78 off 37 balls in Nagpur, smashed eight boundaries and two sixes.

Chinthaka Jayasinghe made 38 from 28 balls and Angelo Mathews hit an unbeaten 26, including a six off the last ball of the innings from seamer Ashish Nehra.

Sangakkara and veteran Sanath Jayasuriya plundered 81 in 39 balls for the second wicket after danger man Tillakaratne Dilshan was bowled by Ishant Sharma for one in the second over.
Jayasuriya made 31 off 21 balls with five fours and a six.

Sangakkara fell in the 11th over when he holed out in the deep off Yuvraj, the first of three wickets for the left-arm spinner.

The two teams will now play five one-day internationals starting in Rajkot on Tuesday. India had won the preceding Test series 2-0 to go on top of the official world rankings.
Scoreboard
Sri Lanka:
T. Dilshan b Sharma 1
S. Jayasuriya lbw b Pathan 31
K. Sangakkara c Nehra b Yuvraj 59
C. Jayasinghe c Jadeja b Yuvraj 38
M. Jayawardene c Tyagi b Sharma 12
C. Kapugedera c Karthik b Yuvraj 2
K. Weeraratne run out 3
A. Mathews not out 26
N. Kulasekara not out 10
Extras: (lb7, w17) 24
Total (for 7 wkts, 20 overs) 206
Fall of wickets: 1-10 (Dilshan), 2-91 (Jayasuriya), 3-121 (Sangakkara), 4-141 (Jayawardene), 5-155 (Kapugedera), 6-167 (Jayasinghe), 7-167 (Weeraratne).
Bowling: Nehra 3-0-44-0 (w2), Sharma 4-0-42-2 (w6), Tyagi 2-0-21-0 (w3), Pathan 3-0-29-1 (w2), Raina 1-0-10-0 (w3), Jadeja 4-0-30-0 , Yuvraj 3-0-23-3 (w1).
India:
G. Gambhir run out 21
V. Sehwag c Weeraratne b Malinga 64
M. Dhoni b Fernando 46
Y. Singh not out 60
S. Raina run out 9
D. Karthik not out 4
Extras: (lb2, w5) 7
Total (for 4 wkts, 19.1 overs) 211
Fall of wickets: 1-58 (Gambhir), 2-108 (Sehwag), 3-188 (Dhoni), 4-200 (Raina).
Bowling: Weeraratne 3-0-43-0 (w2), Kulasekara 4-0-50-0 (w1), Malinga 4-0-28-1 (w2), Fernando 4-0-29-1, Mathews 3.1-0-49-0, Dilshan 1-0-10-0.
by 29 runs. AFP PHOTO/RAVEENDRAN