When the latest pole-vaulter to UPFA ranks, S.B. Dissanayake, was on State-run ITN on Thursday, castigating UNF leader Ranil Wickremesinghe, another television channel was running a programme that hit out at Mr. Dissanayake.
The TNL network ran an interview the late Lasantha Wickrematunga, Editor of The Sunday Leader, had with celebrated athlete Susanthika Jayasinghe years ago. There she was levelling allegations of a very uncomfortable and personal nature against Mr. Dissanayake.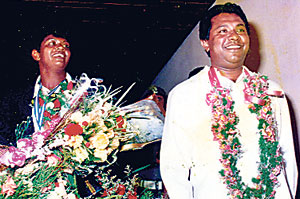 Susanthika Jayasinghe with S.B. Dissanayake (File photo)
Viewers of the TNL programme were apparently shocked when a Sinhala announcement appeared on their screens. It said that further screening of the programme was not possible due to 'unavoidable circumstances.'
The reasons for the 'blackout' came from TNL boss Shan Wickremesinghe – the UNP leader's brother — in his radio network the following morning. He said President Mahinda Rajapaksa had telephoned him and asked that the airing of the programme be stopped. "He is such a nice person. Out of respect for him I stopped it," he said.
Mr. Wickremesinghe made clear he had not succumbed to pressure from Senior DIG Nimal Mediwake and the programme was stopped only after the Police withdrew.
The reference was to Police surrounding the TNL broadcasting site at Bambalapitiya to urge that the programme be stopped. The Police had moved in since there had been an apparent delay in halting the programme forthwith.
A TNL official said yesterday that Mr. Wickremesinghe had demanded an apology from DIG Mediwake since Police had no legal authority to order halt to broadcasts. DIG Mediwaka told the Sunday Times "I had no involvement over the matter though I am aware some references have been made to me."
Piliyandala Police OIC C. Chandimal told the Sunday Times that they were acting on a complaint lodged by Ms. Jayasinghe's husband that the particular interview would tarnish the image of his wife and therefore the police acted accordingly.
Ms. Jayasinghe's husband, Dhammika Nandakumara, said he saw the telecast as an attempt to sling mud at them and wanted it stopped immediately.
"As soon as I saw the programme, I sent a fax to TNL asking it to stop it. I also appealed to the Piliyandala Police to stop it. But the programme continued," he said adding that they would take legal action against the TNL.