The well-programmed Annual prize distribution ceremony of Springfield College Kandy was held on September 26 2009 at the beautifully structured plant Genetic Resource Centre Auditorium - Gannoruwa.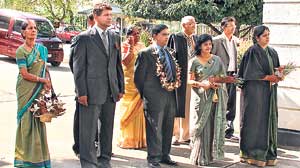 The Chief Guest Prof. Lakshman Wijeyaweera and Mrs. Wijeyaweera, Managing Director Mr.Gamini Goonawardena and the special invitees, who were conducted to the hall by the smartly dressed school band, were deeply impressed by the disciplined manner in which the prize winners from the smallest to biggest received their awards and the detailed programme which was conducted smoothly.
The Chief Guest, in his address commended the management and staff of Springfield for the exemplary manner in which the Prize-Giving had been organized and encouraged the students with his words of wisdom and knowledge.
The event included a performance by the Junior School Choir, which brought credit to the school, by the harmony in which they sang the lilting melodies and with the National Anthem, another successful prize-giving of Springfield College Kandy, came to an end.