Have you even heard of that story about the King Frog whose hubris finally lead to his demise? It goes like - once upon a time there was a big fat frog who was under the impression that he was the biggest thing that God created ruling a good well with a large number of inhabitants, all smaller than him. At the same time he did not fail to gloat over that fact and made everyone always keep that in mind.

One day a junior member of the tribe had an accidental ride to the surface and while hopping around he happened to see a medium sized cow grazing close to the well. The junior who was living under a false impression could not believe what he witnessed and made a B -line back to the well and reported the matter to his beloved king claiming that he saw a living thing bigger than him. Disbelieving the junior the king blew himself up and inquired "Was he this size?" Then he just kept blowing himself on till he finally died of a heart attack.

That is a good lesson for anyone not to live by a myth.

A while ago the ICC had protruded the Lankan cricketers to be ranked the second best in the world Test rankings and we believed we were there in reality. However we first began to challenge the status quo when the Australians hinted that there should be a division among the Test rankings with the top four of Australia, England, South Africa and India slotted together in the big-league while Sri Lanka, Pakistan, New Zealand, West Indies and Bangladesh playing in a lower rung. This was one their solutions to the problem of the dwindling competitiveness among the Test playing countries. When this call first came Sri Lanka was at the number two slot and obviously we were rather perturbed.

The events that followed made us think more pragmatically. The ICC rankings are given on the current form of a country ranked on the results they yield. Ironically it is only a yardstick, but not the gauge or real assessment.

Then to gauge Sri Lanka's real status in World Cricket I feel we must ascertain many facts before we arrive at a certain conclusion.

A. The first is to be at number two ranking against whom Sri Lanka had played and the locations.
B. If Sri Lanka has played on better or on equal terms against the top ranking sides on an away basis?
C. Does Sri Lanka really have the team balance on a regular basis to remain a top ranker over a period of time?

In answer to the first question, Sri Lanka took on India in 2005 on a three Test series and managed the same result but this time on a lesser magnitude. Besides that Sri Lanka has played eight overseas series, beaten Bangladesh on 3 occasions. Series draw against England (1-1) New Zealand (1-1) West Indies (1-1) and Pakistan (0-0) and lost to Australia 2-0. Meanwhile while playing in Sri Lanka, lost to Pakistan 1-0 in 2005, beat South Africa 2-0, Beat England 1-0, India 2-1, Pakistan 2-0 and beat New Zealand 2-0. That was Sri Lanka's journey to the number two slot and out of it.

Answer to slot B is very easy. Sri Lanka is yet to beat India in India, Australia in Australia or South Africa in South Africa or register a series win over the poorly placed West Indies in the West Indies.

Point C. Team composition. More than less, it was the Murali-Vaas composition that won Sri Lanka the majority of its accolades. For two bowlers in the Indian sub-continent to share over a one-thousand one hundred and forty seven wickets is unique and it may not occur again. Even the much feared Indian spinning foursome of Bishan Singh Bedi (266) Bhagwat Chandrasekhar (272), Erpali Prasanna (189) and Srinivasan Venkataraghavan (156) totaled only 883 wickets between them.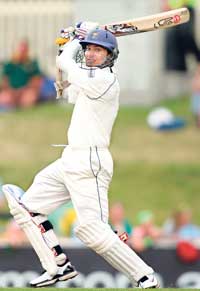 Sangakkara batted well on the fourth day of the third Test and sliced off a century, but was it of any significance to Sri Lanka's cause where the end result was concerned?
Back to Murali and Vaas, the duo were real finishers. To my mind the real finishers that Sri Lanka had produced since they gained Test status were Aravinda de Silva, Arjuna Ranatunga and Asanka Gurusinha and Sanath Jayasuriya in batting and Muttiah Muralitharan and Chaminda Vaas in bowling.

From the above mentioned Vaas, Murali and Sanath are still in the game internationally, but, can they still produce that magic during their aging years? (Vaas and Jayasuriya have retired from Test cricket now leaving out Muralitharan).

Among the present lot whom can we back as a real match winner who can do it on a regular basis like the present Indian captain Mahendra Singh Dhoni?
In the first Test in India former skipper Mahela Jayawardena did it up to a certain extent with that marathon innings of his. More importantly while he was occupying one end of the wicket he nurtured his wicket-keeper batsman partner Prasanna Jayawardena and saw to that he also keeps the fire burning at the other end. Even prior to this Mahela Jayawardena has gone on at one end making sure his partner at the other end also makes a big one.

Ironically in the last innings of the Test series Sangakkara made a big one, but, how useful was it from a team perspective? Early next morning he was out and the match folded soon after. On an earlier occasion Sangakkara had a big one against Australia in the fourth innings. There was no glory for Sri Lanka at the end of that innings, Sri Lanka ended up losing that game too.

In bowling do we have a regular combination that could hold sway? In medium pace in one occasion it is the combination of Nuwan Kulasekera and Thilan Thushara, the next it is Welagedera and Dhammika Prasad along with Angelo Mathew as the third seamer. But, out of the lot the only bowler who is somewhat sure of his place in the team is the most ineffective Mathews than the others.

In the spin department the very limbs that helped Muralitharan who did wonders in the past is not giving him that same freedom. Heart works hard, but, with that height he can never become a regular match winner at the highest level, believe me he cannot do what Daniel Vettori does on the same track. As for poor Ajantha Mendis it looks as if he has run out of ideas like how Sangakkara has forgotten to translate his talk into walk as captain of Sri Lanka.

PS No, no, I m not talking about T20s. It is just Test cricket – the real thing.