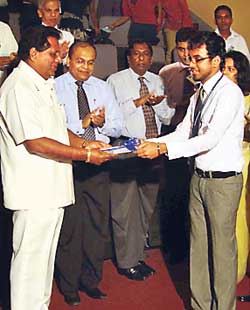 The editor hands over the first copy at a recent ceremony
The Aviation Club of the Civil Aviation Authority of Sri Lanka recently launched "Guwansara", a quarterly educational magazine on aviation issues.
"Guwansara" is the first-ever aviation related educational magazine to be issued in Sinhala and focuses on the growing student population of the country, average readers and aviation enthusiasts in Sri Lanka.
Dev Kowsala Samarajeewa, editor of the magazine said the magazine will provide proper education and guidance by building up and expanding new knowledge avenues related to the field of aviation in the country.