Many NYE parties are disappointing with over croweded night clubs doing the minimum to get you through the door .This year 'RHYTHM & BLUES' ( R&B ) together with 'Perfect Beat Entertainers' has a better option.
'Dollar Party 2009' will come alive at the Hilton on December 31 with Kapila, Naushad and Harith.'Dollar Party 2009' will place emphasis on allure, decadence and sophistication within a venue that will simply take your breath away. The perfect backdrop of a NEW YORK CITY- SKY LINE for this spectacular night will be the attraction' said Haritha Kotandeniya one of the members of KNH Project.
International DJ line- ups and renowned lively atmosphere shall make this a perfect destination for the 1000 + party goers celebrating in comfortable and luxurious surroundings.
'This is what you will experience when you step into the Grand Ball Room of Hilton Colombo. The event will feature a midnight balloon drop with Dollar notes, live DJ guest acts, many give a ways including air tickets & surprises' he added.
Dollar Party 2009 is the most exclusive and most entertaining NYE party in Colombo featuring the notorious trio ( the trend setters in the 90 s ) The Dollar Boys – Kapila, Naushad & Harith of the KNH Project.
After their huge success of the single and video Dollar Boy, they will be playing the hit single at this event. Also the event is named after the song. KNH Project was the first set of professional DJ s in Sri Lanka to remix and to produce own songs.
The event will also feature legendary DJ Laura Brown specially flown in from UK for the event. Laura is a DJ, Producer, Vocalist and Label owner based in the heart of London who is sought after for her mixing talents and production skills.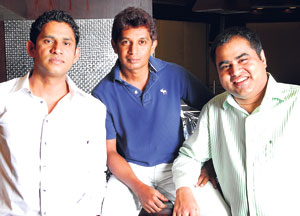 Kapila, Naushad and Harith
She has her independent record label named Powder Room Productions. Another well known DJ in the local house party circles – DJ Nalin of the Perfect Beat who was silent for a while will be back behind the decks spinning the well known grooves of yesteryear. He is one of the main organizers of the event.
There will be special packages for the night like the "Dollar Boy- Platinum", "Dollar Boy- Gold" and "Dollar Boy- Silver". The individual tickets are priced at RS 2500/- nett per person for entrance and food and beverage will be sold in individual stalls and bars
For inquiries contact :Russell – 0773088600, Shane – 0773601555 or Nalin – 0777318081.