A Business Times email poll this week asking the Sri Lankan public whether political parties should declare their sources of funding and whether public companies must declare any funding of political parties, came up with an unusually, unanimous response.
All the 225 respondents said political parties and public companies must resort to open disclosure. Respondents in the 2-question poll ranged from Chairman and CEOs, to economists, public servants, housewives, professionals and students among other categories.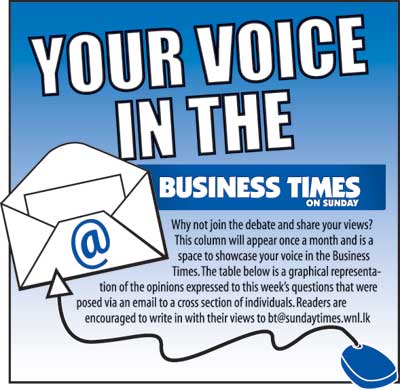 Asked whether political parties should disclose the source of their funding, the respondents polled said a unanimous YES. To the question: Should public companies which fund political parties disclose these donations in their annual accounts, the answer again was a unanimous YES. It was the first time in the history of the Business Times email polls that all respondents had reached unanimous agreement.
There wasn't a single NO or UNDECIDED response, as the case has been in previous email polls conducted by this newspaper. Those who said companies should come clean on funding of political parties included several CEOs themselves of powerful Sri Lankan companies.
Separately, the newspaper asked CEOs of several top Sri Lankan companies whether they have funded political campaigns, and here the answer was mixed with a majority saying they don't fund political parties.
A businessman primarily in the software industry noted, "As neutral businessmen we fund both parties; that is the only way we are able to survive." Nahil Wijesuriya, Chairman Hotel Developers, noted that at one time he funded the National Movement Against Terrorism. "Now the job is done I am not funding anymore," he said. But he pointed out that even in countries where full disclosure has been practiced for some years, there have been enough instances and ways of overcoming the law.
"Sri Lankan ingenuity in overcoming the law will most likely make this only a 'pious intention' in getting this information to the public domain. A 'Right to Information Act' that would incorporate this information as well, is possibly the way to go," he added.
Rajan Britto, Deputy Chairman Aitken Spence said as a policy the company doesn't fund political parties. "We never fund political parties and since we're listed, there is no provision for that," he said, adding that none of the political parties have ever approached Aitken Spence as well.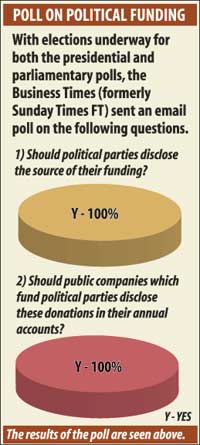 Cargills Group CEO Ranjit Page said they don't fund political parties while Hiran Cooray, Chairman Jetwing said that the company is apolitical and doesn't believe in funding any party. "As a policy we haven't done it and wish to continue in the same spirit," he said.
A top businessman in automobile sales noted that he is completely against funding political parties. "No one has approached me as they are aware that I'm not paying any of them for their campaigns," he said.
However Executive Director of Transparency International Sri Lanka J.C. Weliamuna said he didn't believe some of the responses by the CEOs or maybe the companies may have manipulated their accounts.
He said that if these companies have told the truth about not having given any contributions, it would mean that political parties have got funds from widespread abuse of state resources, commissions, illicit funds or mafia-type business. If this is the case, Mr. Weliamuna said the public should raise this issue. He added that companies can also indirectly fund campaigns through advertisements and sponsoring events.
Several respondents also commented on the two questions (in the poll) with one powerful businessman saying, "businesses that depend on government contracts will fund political parties and there's nothing wrong in that. But disclosures should be made." However another respondent, again a CEO, said while disclosures are important, it could raise other issues with the Tax Department in particular, hounding such companies.
"On the other hand in the Sri Lankan context there is always victimization and in the current situation CEOs and high officials can be targets of the 'White Van' menace," he said. "Are we a mature society to make these disclosures and not be victimized? That's the question one has to answer."
Another respondent also said full disclosure would lead to reprisals and discrimination in government contracts and tenders the moment it is public knowledge that a particular company is an opposition supporter.
Some respondents said funding of political parties should be a tax deductible expense.
Presidential poll could cost staggering Rs 10 bln
By Natasha Gunaratne
The cost of the upcoming presidential election is likely to be at a staggering Rs.10 billion which includes print and electronic media advertisements, fuel costs for travelling, posters, hoardings, manpower and money distributed at campaign rallies, according to Executive Director of Transparency International Sri Lanka J.C. Weliamuna. He said this amount (which includes what the political parties and candidates are spending) is enough to reasonably run the education and health sectors in the country.
In an interview with the Business Times on Thursday, Mr. Weliamuna said there is no accountability for the large sums of money lying in campaign coffers and that there is a pressing need for proper public disclosure of campaign funding and financing.
Political party funding
The public has a right to know who has contributed to the political campaigns of political parties in Sri Lanka, Mr. Weliamuna said. Political parties are different entities and funding disclosure is necessary due to internal and external factors. Most political parties have abused funds, particularly during elections. Large sums of money are coming into the party and there is no auditing and no accountability.
Mr. Weliamuna explained that sources of funding should be revealed because the public will vote for a certain policy that the party campaigned on but these policies will later be adjusted to suit the funder.
"Once you come into power, policies will be adjusted but no explanation will be given. It is a huge conflict of interest because those in power will be motivated by personal interest, not public interest."
Mr. Weliamuna said there are 'genuine funders' who show financial support for a cause but without proper disclosure, there is no guarantee their money will be put to good use. He explained that in other countries, there are limitations on political funding and companies are required to disclose any contributions they make to political campaigns. "Political parties are not private entities," Mr. Weliamuna said.
"Even public companies have to give information," he added. "There is no reason not to disclose. Political parties should have the same rules as public companies. Every political party has a treasurer and they should disclose the sources of funding."
He further stated that when large amounts of funding are given to political parties, disclosure will allow the tax authorities to collect what belongs to the state.
If directors of companies are spending company money, shareholders have the right to know, he said. In most cases, companies 'fudge their accounts' but according to Mr. Weliamuna, campaign contributions should be disclosed in the same way other expenditures are disclosed in annual reports. He also said that companies should be able to fund as many political parties as they want but with proper disclosure.