Sitar virtuoso Pradeep Ratnayake performed a concert in the Weill Recital Hall at Carnegie Hall, New York City on November 20 to a full auditorium. Pradeep has spent the last 18 months at Columbia University's School of Music under the auspices of the US-Sri Lanka Fulbright Commission. He is studying jazz there with Ben Waltzer and Terry Pender, both of whom performed on piano and mandolin respectively with the Sri Lankan sitar player at the recent concert. Also performing were Miranda Cuckson on violin, Jacob Friedman on piano, Arthur Kampela on guitar, Harish Raghavan on bass, Nalinda Peiris on Kandyan drums, and Nitin Mitta on tabla.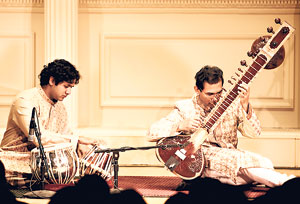 Pradeep (right) with tablist Nitin Mitta
The boyish looking, unassuming sitarist seemed almost embarrassed to be on stage when he first came out. He introduced each song in an almost inaudibly soft voice, before the drones stings and melody of his sitar filled the room with emotive sound. From the balcony, thousands of crystals on three enormous chandeliers vibrated to the music, refracting light and sound, as the Baroque recital hall was transformed into a Hindu temple and Harlem jazz club, a kind of Indra's Web for our increasingly global civilization. The concert was an inclusive mixture of cultures – classical Indian, Sri Lankan folk, American jazz, and Western classical forms – flowing in and out of each other, losing their separate identities, and transporting the audience with them in ways both ethereal and exciting.
The two-hour performance began with a traditional interpretation of a Hindustani Raga with sitar and tabla, but then left the beaten track. Included in the programme were three Sri Lankan melodies transformed by Pradeep's creative arrangements--Kuveni Asna, Ukusa Vannama, and Turanga Vannama. Other titles included Spring, Eastern Blues, Joyous Meeting, and Wind. Tablist Nitin Mitta, who played on all of the melodies except one, was a powerful presence throughout the concert. Violinist Miranda Cuckson effortlessly adapted to the rhythms of the Sri Lankan vannams.
While all of the compositions were captivating, the duet with guitarist Arthur Kampela was a milestone in the use of sitar. The piece, titled Distortions/Reflections, was a playful back-and-forth between guitar and sitar with extended jazz techniques producing riffs and percussive use of the instruments both clashing and soothing. I cannot imagine that sitar has ever been played in this manner before, but certainly will be again.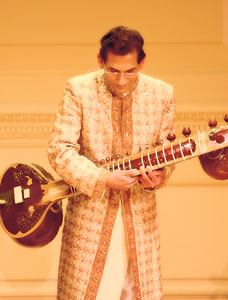 Pradeep Ratnayake
Pradeep Ratnayake was born in Colombo and began playing sitar as a young boy under the guidance of sitarist D.A. Dewage. Before finishing his secondary education, Pradeep had earned the title of Visharada from the Bathkande College of Music, Lucknow, India. Passing on an opportunity to study mathematics in university, Pradeep went to the University of Visva Bharati, Santiniketan, India, to pursue a degree in music as a disciple of Professor Indranil Bhattacharya. Pradeep graduated with the highest marks ever received at the university. After four years in India, he returned to Sri Lanka to become a lecturer in music at the University of Sri Jayawardenepura. Later he returned to Santiniketan to earn a Master's Degree.
Virtuosity in sitar requires a rigorous apprenticeship under the tutelage of a master. While the classical Indian musical traditions allow a great deal of freedom within the genres, breaking out of that lineage requires both vision and courage, both of which were in much abundance at the Carnegie Hall concert.
Pradeep Ratnayake has three CDs of his original compositions to his credit: Indrakeelaya, Roots, and Visva. The latter was a live recording of his concerts at the Asia Society in 2005, which I was also privileged to attend. The artist was noticeably transformed in the interim, no doubt as a result of his training and collaborations with other musicians and genres in New York City. The contemplative intensity of sitar was accompanied with frequent expressions of joyful surprise as the musicians played with and off of each other to great effect. There was nothing quiet or unassuming about this powerful performance.
Pradeep Ratnayake is expected to return to Sri Lanka in June 2010, when Sri Lankan audiences will be delighted to hear a new fusion on the forefront of world music. For more information, go to: www.pradeepratnayake.com.

William Grassie is the Founder and Executive Director of the Metanexus Institute. In 2007-2008, Grassie served as a Senior Fulbright Fellow in the Department of Buddhist Studies at the University of Peradeniya.