NEW YORK, Dec 11, (AFP) -US Secretary of State Hillary Clinton on Friday said the United States strongly backs Pakistan at a "critical juncture,"but she acknowledged that a lack of trust is impeding cooperation.
In a speech at the New York inaugural benefit of the newly created American Pakistan Foundation, Clinton said Pakistan needs to build up democracy, while facing down the Taliban and al Qaeda.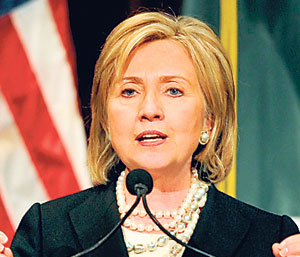 US Secretary of State Hillary Rodham Clinton speaks at the American Pakistan Foundation's Inaugural Benefit December 11. AFP
"To achieve the long term progress that Pakistan seeks and deserves, we must go further in two areas: helping Pakistan to strengthen its democratic institutions and improve security by defeating the extremist groups who are waging a campaign of violence against Pakistan and threaten stability in South Asia and beyond," Clinton said.
The US foreign policy chief noted that Pakistan's military had taken on Taliban groups inside the country, but not militants using Pakistan as a rear base to attack US-led NATO troops in Afghanistan.
"There are other terrorist groups who have set up camp in Pakistan, where they are plotting global attacks and waging war against the troops from 42 nations... in Afghanistan," she said.
"Pakistan has a critical role and an abiding interest in helping this international effort," she said. "We will continue to encourage the Pakistani government to take affirmative steps toward the goal of disrupting, dismantling and defeating al-Qaeda and the other terrorist groups responsible for so much suffering."