For every parent the most precious thing in life is their children, and to educate them is their utmost dream. Among the hundreds of establishments that offer education and knowledge to the next generation, what is the best option may be a muddle for many parents.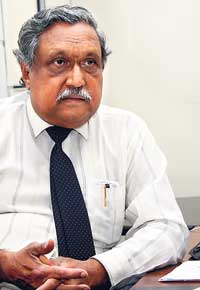 The College of World Education, a school with a strong background, situated in a quaint and relaxing environment is one of the best educational base you can give your child. No doubt CWE offers a world class academic curriculum along with various sports activities. Providing a modern campus atmosphere in the serene environment at the Austasia compound at Thalawathugoda, the students could participate in any sports activities free of charge at the club. It comes with perks for parents too who would like to keep fit and in shape, as they could use the compound by paying a minimal sum.
Why choose CWE?
"We take in only fifteen students per classroom with two teachers per class in the lower section. This has been done to give personalized attention to the students," says Dr. Jayasinghe. All religions and value education as well as teaching of new skills are included in the curriculum in addition to the general subjects.
Teachers at CWE are trained to give personalized care and attention to your child taking on the role of mother and father. The Vice Principal of the College, Prineetha Gopallawa says, "children and teachers come to me to get my opinion on various concerns, while the kids come to me to get attention."
Founder of CWE
Founder and Principal of CWE, world renowned educationist Dr. Frank Jayasinghe says he has chosen the field of education to help a wider group of people. "For 12 years I was at Wesley College and from there I went to St. Thomas's College Mount Lavinia. Kodinal International School was on the look out for a Head Master and my name was proposed by a school in Geneva where I engaged in teaching for some time. I was chosen from among fifteen applicants and was given the authority to turn the American school into an international school. The freedom given to me by the management to develop the school was great and I did my duty to the fullest."
In 1983 however, Dr. Jayasinghe returned to Sri Lanka and started at Wycherly College which has now been passed on to the safe harbor of his brother. Then his path was steered towards St. Nicholas College and today, after moulding the lives of thousands of students he is trying to mould your child into a great pillar of success.
The mother to all
Known as the mother to all, the Vice principal of CWE, Prineetha Gopallawa started off her career at Ladies' College and then moved on to serve as the Principal of Burhani Serendib International School. It was at Wycherly that she met Dr. Jayasinghe and today she strives to enlighten your life.
So the choice is yours. Make the right choice for your child's future.