While WiMAX wireless broadband (4G) is being advocated as the best low cost technology which can be deployed today as opposed to promises of a next generation Long Term Evolution technology that is still two to three years away, the equipment and infrastructure required to operate these networks differs from those currently used in Sri Lanka's 3G networks so an adoption of this technology will require added investment such as new base stations.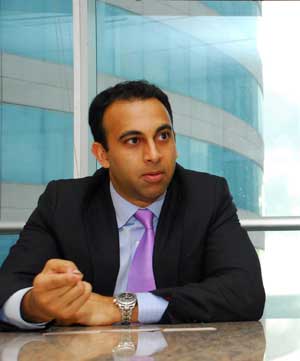 Navin Shenoy
This comments were made by Intel's Vice President and Asia Pacific General Manager, Navin Shenoy, who spoke exclusively to the BusinessTimes about the future of WiMAX technology in Sri Lanka on the sidelines of the e-Asia 2009 conference held this week at Colombo's BMICH.
There are currently 375 WiMAX base stations in Sri Lanka operated by Dialog, Lanka Bell and Suntel which services around 12,000 subscribers but from next year onwards, because of the recent allocation of the 2.3 GHz and 2.5 GHz radio spectrums at 30 MHz of spectrum to new operators such as Sri Lanka Telecom's Sky Networks, between five and eight million potential customers could be added at average speeds of 4 Mbps.
Says Mr. Shenoy, "what you'll see as the network gets deployed in 2010 is that customers will get to access through smart phones, laptops, netbooks, etc. to billions of websites full of rich content"; this means not just basic text based content but also the full gamut of content including popular services such as YouTube, Skype, FaceBook and others which are known to be "always on" for younger generations.
He also indicated that the expected adoption of WiMAX, a global standard developed and deployed to approximately half a billion people worldwide in the short time frame of just eight years, was strongly influenced by its low cost; a function of its flat intellectual properties (IP) structure whereby no one developer "dominated" its deployment, which was not the case with older technologies like 3G. He further commented that the only "corollary is other technologies like WiFi, which are essentially free" while "WiMAX will be a little more costly", but, either way, it will cost less than 3G.
Asked to comment on why he felt WiMAX would not suffer the same setbacks as 3G, which has seen several attempted deployments over the last 15 years, many of which were unsuccessfully one might argue; Mr. Shenoy noted that, despite the dot com bubble of previous years as well as the most recent global recession, Internet traffic had experienced a steady annual growth of approximately 10%, so there was definitely continued demand for broadband. However, 3G suffered because it could not keep pace with the increasing bandwidth needs precipitated by increasingly younger users as well as greater preponderance of rich content available online, while technologies such as DSL and fibre were shown to be not cost effective enough.
WiMAX meets all these needs and its particular accessibility to rural consumers, which is important to emerging markets, as well as its mobility, a distinct benefit in more developed markets, makes it the preferred low cost choice for many.