The ongoing financial crisis has led to a "dramatic" drop in international trade and as much as 50% of this can be attributed to a lack of trade finance (loans and guarantees) brought upon by reduced capital availability at international banks, according to top Asian Development Bank (ADB) official Steven Beck; Head of Trade Finance at the regional development bank's Private Sector Capital Markets Division.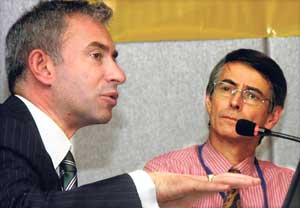 Picture shows Steven Beck speaking with ADB Country Director Dr Richard Vokes listening. Pic by Saman Kariyawasam.
He further indicated that concerns over the health of emerging markets, counterparty risk (solvency of other banks) and BASEL II regulations were some of the causes of credit restrictions faced by almost all parties.
In 2009 the ADB extended its existing Trade Finance Facilitation Programme, launched first in 2004, to US$ 1 billion, an amount accessible until 2013; the programme has most recently expanded to Indonesia last month with the next country expected to join being the Philippines in January 2010. As such, Mr. Beck noted that "this is a contingency plan" for banks, which are provided 100% of capital needed and, in urn, are allowed to continue providing capital for trade.
Local signatories to this programme include DFCC Vardhana Bank and NDB Bank, who extended their respective agreements with the Bank of Ceylon signing a first time agreement with the ADB. When queried as to whether the Bank of Ceylon's decision to sign for the first time was as a result of the global financial crisis, bank representatives indicated that this was not the case.
Further, according to "Asian Development Outlook 2009 Update" released in September, the ADB forecasts this country's economy will "grow 4% this year and 6% in 2010" and predicts "a current account deficit of 3% of gross domestic product this year and a 5% shortfall next year."