Humbled by his success with his recent exhibitions over the years, Ifthikar Cader has decided to share his new collection with all art enthusiasts barely nine months after his most recent exhibition. This is an artist who paints primarily because, quite simply, it is what gives him the greatest pleasure.
Happily he discovered that his paintings also resonated with people, and that he was blessed with the luxury of being paid for doing something he enjoyed! It therefore seemed the best thing to do when he retired from business in 1993 aged 55.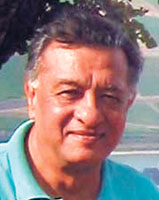 Ifthikar Cader
He started to paint seriously and had the first of several exhibitions in 1996 that sold many paintings and launched a successful professional career. He paints in the realist-impressionist style and prefers plein-air landscapes, inspired by the great French Impressionists especially Monet, Pissarro, Corot and Post-Impressionists Cezanne, Gauguin, the Dutchman, Van Gogh, and Spaniard Sorolla.
Realist and Impressionist American painters who have also influenced him include Sargent and one of the world's greatest living artists, Richard Schmid.
Sri Lanka being an island of extraordinary beauty, it is no small wonder that he mostly enjoys painting its magnificent landscapes directly from nature. Getting into the nitty gritty of how he paints, (not all are privy to this) he begins by accurately measuring and drawing the outlines of the main shapes lightly blocking in their values, edges and colours, starting from top to bottom, background of sky and distant objects through middle ground and finally what is close up in the foreground.
He then proceeds to build up details generally finishing the prominent shapes with the correct colour, values and edges that he sees. For him, it is an intensely satisfying experience to lay down the paint with brush and painting knives and watch the picture evolve and translate into what he had in mind.
He has had no formal training but benefited substantially from the opportunities he had visiting the famous art galleries in England and France during his student days, and later on his frequent business tours to UK, France, Italy, Holland and also the USA.
The exhibition on December 15 will have around 45 plus paintings in the Harold Peiris Gallery at the Wendt.