The Ceylon Chamber of Commerce, Sri Lanka's leading trade chamber, on Thursday named Sampath Bank the best Corporate Citizen 2009, under its Corporate Social Responsibility (CSR) Awards programme. Cargills Ceylon was recognised as the first runner-up and Aitken Spence was the second runner-up.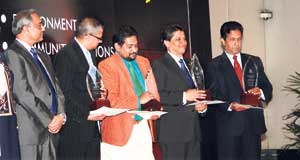 The Attorney General with the winners at the event
In the under Rs 10 billion-turnover category, the winner was BAM Holdings. The Diesel and Motor Engineering company was the first runner up and the second runner-up was People's Leasing Co Ltd.
The Chamber also named 10 'Best Corporate Citizens.' In alphabetical order these are, Aitken Spence, Brandix Lanka, Cargills Ceylon, Ceylon Biscuits, Ceylon Tobacco Company, Colombo Dockyard, Hatton National Bank, Sampath Bank, Singer Sri Lanka, and Sri Lanka Telecom. These awards are expected to raise awareness on CSR within the business community and promote CSR practices among businesses. Businesses are judged according to their activities in the areas of customers, shareholders, employees, environment, and the community.
Minister of Disaster Management and Human Rights, Mahinda Samarasinghe, was this year's chief guest and Attorney General, Mohan Peiris was the guest of honour. The keynote speech was delivered by the Director of the Centre for International Corporate Governance Research at Victoria University, Melbourne, Australia, Prof. Anona Armstrong.
As part of its CSR Awards, the Chamber also picked five Category Awards winners. Under the category of Environment, Brandix Lanka was the winner, under the category Customer / Supplier Relations the Chamber named two companies as joint winners. These were Cargills Ceylon and Ceylon Biscuits. Under the category of Employee Relations, the Colombo Dockyard was the winner while under the category Community Relations, Sampath Bank was the winner. In the fifth category of Governance and Economic Contribution, Hatton National Bank was selected as the winner.
Special projects by companies were also recognised. Winners of the Special Projects category were BAM Holdings Ltd on Infrastructure and E Fusion on Education and Training. The second runner-up for special projects was Brandix Lanka Limited under Environment, the first runner up was Microsoft Sri Lanka on Education and Training.
The Chamber also awarded Certificates of Merit for Special projects. Brandix Lanka, David Pieris Motor Company, Islandwide Marketing Services, Outreach Projects (Gurantee) Limited (CTC), Pan Asia Banking Corporation and the Hong Kong and Shanghai Banking Corporation Ltd (HSBC) were given Certificates of Merit.