Thai authorities yesterday seized a Russian aircraft with thirty tons of weapons on board which the pilots claimed were headed from North Korea for Sri Lanka.
However, the Ministry of Defence said last night there were no official shipments either by air or sea from North Korea scheduled. "We have asked the Sri Lanka embassy in Bangkok to obtain details from the Thai authorities. We will have more information on the progress of their investigation later on Sunday (today)," an official told the Sunday Times.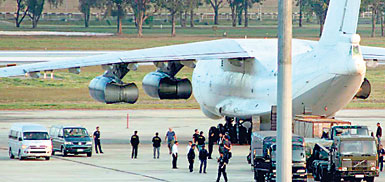 The detained plane at Bangkok's domestic Don Mueang airport. AFP
The Russian aircraft with registration number AWG 732 had touched down at the Don Muang International Airport for a re-fuelling stop. This airport, once used for international commercial flights, is now used among others by charter operators.
All international flights now operate through the Swarnabhumui International Airport. The pilot had claimed that they were carrying a load of aircraft spares. However, checks by Thai authorities have revealed the 30 tons of military hardware, including RPGs, missiles and assault rifles.
Immediately thereafter, the crew, identified to be from four from Kazakhzstan and one from Belarus, were taken into custody. They were under interrogation last night.
Reports from Bangkok last night did not rule out the possibility that the pilot of the aircraft used Sri Lanka as a destination to cover up the real location he was headed. Suspicions have been heightened for a number of reasons, according to Thai sources. However, these sources declined to divulge details until investigations are concluded.
In Colombo, officials said such an aircraft could not have landed in any of Sri Lanka's airports without prior authorization. Moreover, with the military defeat of Tiger guerrillas, they said, there was no way large quantities of weapons could be illegally delivered by air. Nor were organised entities operating now to take such deliveries, they added.