The ICC post 2012 Future Tours Programme is surely in turmoil. The latest drawback to it has come from the no one else, but the ICC President David Morgan himself. Now he has lamented that the home-and-away component of the current model could be scrapped.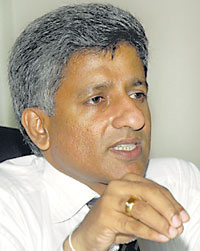 Nishantha Ranatunga
At present all teams must play each other twice in Test and one-day series over a six-year cycle, but Morgan had indicated the new FTP could reduce the mandatory requirement to one series.

Most of the cricket insiders see this as the sinister initial move to break the Test playing countries into two segments, with Cricket Australia looking out for a super group of four countries – Australia, England, South Africa and India in the top Tier and the rest in the other.
They analysts also see this as a move to allow respective national boards to greater flexibility in arranging bilateral "icon" series, and this could lead to manipulations in scheduling.
When confronted Nishantha Ranatunga - the secretary of the SLC Interim Committee with this problems he said "So far these are only speculations.
Nothing on these lines has been spoken officially at the ICC level. However as far as Sri Lanka is concerned we will vehemently oppose any move to break up the present norms".

It is also learned that other boards which are affected by this - Pakistan, New Zealand, Bangladesh and the West Indies are closely monitoring all developments in this regard.

Meanwhile from London reports have reached to the effect – "Scrapping the home-and-away compulsions from the Future Tours Programme cannot resolve the issue of player burn-out, says the Federation of International Cricketers` Association, which wants the ICC to schedule matches in "context" to ensure manageable workload".