Eight countries will be in the fray at the AFC Challenge Cup 2010 that is scheduled to be kicked off at the Sugathadasa Stadium on December 16.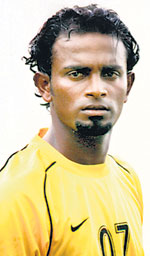 Chathura Maduranga of Rutnam SC will lead Sri Lanka at this tournament
The pick among the lot are the South Korean team who have already qualified for the 2011 Soccer World Cup, after a forty-five-year break.

The winners of this tournament will thus qualify for the Asia Cup Soccer Tournament which is scheduled to be held in Qatar in 2011.

All matches will be held at the Sugathadasa Stadium barring one semi-final which will be played at the Royal College Sports Complex.

In the qualifying rounds which were also held in Colombo, Sri Lanka made sure of their berth in the final round by beating Brunei (5-1) and holding Pakistan to a 2-all draw Initially eighteen teams took part in the first round games which also took place in Colombo.

The winning team will receive 50,000 US$.

Sri Lanka will be in action during the following days – December 16 against Myanmar, Dec 18 against Tajikistan, Dec 20 vs Bangladesh.

The Semi-final rounds will be worked off on December 24 while the Final will be worked off on the 27th of December.