It was definitely a pleasant Wednesday evening though it was no surprise! Sri Lanka's victory over India in the first T 20 match was both refreshing and extremely pleasing. For the first time on the tour it appeared that the wheels were in motion and very much in place. It will be of great interest to watch the fortunes of the team from now on in the next T 20 game as well as in the ODI series!

It is common knowledge that the Test series was a bad dream or a poor day in the office. However it in no way could suggest that it was a no win situation for Sri Lanka as the team has almost everything required by a top quality international line up which includes quality in batting, bowling whilst fielding may be the area they are slightly behind.
Whilst the T20 series will be dismissed as matches of very little significance by most rationalists, let's not forget that it could easily provide Sri Lanka the much needed momentum it was looking to have on the tour. Once again a team with two heavy defeats will always have their confidence at a very low level and self belief will be something quite a distance away. In that back drop to come back and win a game in wholly new series can be just the tonic the team needed and will give it the much needed confidence and the self belief to proceed.

Having said that as much as Test cricket is a different ball game ODI too needs people and players who understand it and will definitely be a hugely different ball game from the T20's come the first match of the series! For starters the approach and planning will be different. The batsmen will thrive on the time available to them whilst the bowlers too would look at using their overs in a more organized and an effective manner than bowl with the sole intention of just bowling dot balls. The game as a whole will slow down though the interest levels across India will not be low.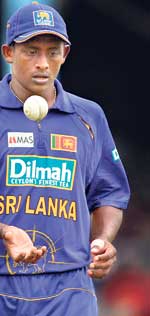 Mendis should go back to the drawing board and try to prolong his time in the middle
What will be interesting is the new role Sanath Jayasuriya will be playing in the ODI's. Given the responsibility to bat with the lower order at no 6 Jayasuriya may come in when the mandatory ball change takes place and with the batting power play also available. I am sure it is bound to be a good move on the part of the Sri Lankan think tank as Jayasuriya loves the harder ball and field restrictions to open his broad shoulders besides taking on a tiring bowling line up. Whilst the rest of the side look settled, as I emphasized in my last column, it is time that Thilina Kandamby be brought into the playing XI. With Dilshan and Tharanga down to open and Sangakkara and Jayawardane batting at 3 and 4 and Jayasuriya at 6, one wonders what the final choice would be. It is obviously a tussle between Thilan Samaraweera and Kandamby and the choice would be any body's guess though young Kandamby will naturally make a very strong case for him.

From his younger days at Ananda College Thilina Kandamby had all the ingredients of being a future star and it was confirmed by knowledgeable former cricketers of the caliber of Ravi Shastri when Kandamby was Sri Lanka's Vice Captain in the Youth World Cup which was staged in 2001. The current Chairman of the Interim Committee D.S. De Silva then the coach of the team is bound to confirm this as he was one person who saw young Kandamby at close quarters.

As for the bowlers it is a real shame that one of Sri Lanka's match winners Ajantha Mendis hasn't been utilized at all so far. Let's not forget the manner Mendis came on the scene with his blistering performance confusing the best batting in the world! Whilst his critics may argue that his mystery has been found out, I for one am not willing to buy that argument! Whilst I do accept the reality that Mendis will not get you five wickets every time he bowls, I also believe that with his quality and class he can still be the bowler Sri Lanka is looking for. The problem here appears to be again a case of confidence or the lack of it. I think the expectations are too high from young Mendis and it is time that the people concerned tell him that he takes it slow and start bowling the way he did in the past. One of Mendis' greatest strength's has been his very tight line and length. However, unfortunately that forte of his appears to have deserted him which to me is a clear message that he is trying too many things in a too short time.

Is it out of desperation or compulsion is the question that needs to be answered. Having said that it is obvious that either scenario could be worked out, and Mendis can be preserved. When a batsman is in poor form some of them go back to the drawing board and speak to their first coaches and get them to look at possible areas which needs fine tuning. Maybe Mendis should go back to that knowledgeable and the gentle Major General V.R De Silva who was responsible in polishing him when he was an uncut gem and get him to look at him closely as I am sure De Silva will remember the Mendis that burst on the scene as an unknown person and can offer him valuable and sound advise without doubt which can help Mendis to preserve his career for a longer time. I am in no way taking anything away from the current coaches of Sri Lanka cricket, but sometimes the plain and simple approach sans the high tech machinery could work and do the trick.

As for the rest thankfully there is no such a situation to be solved other than getting back to form and winning ways. With the first T20 out of the way with a good win, skipper Sangakkara should feel extremely light on his back as a win was what the Lankans wanted. What we now should hope and pray is a continuation of that! This only time will tell.
Roshan Abeysinghe is a leading cricket promoter and an international cricket commentator