Anusha Kodituwakku caught the Sunday Times office by storm with her liveliness and charm. Just to look at this slim girl one would not think that she is a double international and that too in two rugged sports - boxing and sevens rugby.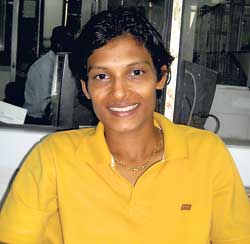 Anusha Kodituwakku - double International.
Her latest ach-ievement was in boxing where she bagged a bronze at the recently concluded Third Asian Indoor Games in Vietnam. Her next aim is to bring honour to the motherland at the World Championships to be held in Barbados, West Indies in August 2010. In order to train for this event Anusha is expecting the ABA to send her for further training to Thailand. Anusha hit the headlines in 2006 when she punched her way to a Gold Medal at the 2006 Asian Championships.

The other boxers who accompanied Anusha to Vietnam were Nilmini Jayasinghe, Sithari Sandareka (all of MAS Holdings) and Niluka Karunaratne of the Army.

Nilmini Jayasinghe is also a prominent boxer and a Sri Lanka women's sevens rugby player having represented Sri Lanka at the Hong Kong Sevens.

During her lively interview with the Sunday Times Anusha revealed that she prefers boxing to rugby. "One tends to get injured on the rugby field. In boxing you can avoid the punches by blocking them and be attack fearlessly."

She attributes her success to the company that she is attached to - MAS Holdings. She is attached to Slimline in Pannala and gets her training from the Cuban coaches who are on contract to the Amateur Boxing Association. "Of course all these facilities are made available by our Managing Director Dian Gomes, who is a boxer of repute from Royal and a sports fanatic," says Anusha.

During a recent visit to the MAS Holdings Office in Borupana, Ratmalana I was amazed to see the amount of sports personalities attached to the firm. One of the first persons to recognize me was former Sri Lanka rugby skipper Haris Omar. "Tea, coffee, breakfast," he asked. I politely said that I had just had my breakfast.

MAS (Mahesh, Ajay, Sherad - Amalean brothers after which the Company has been formed) Holdings have branches all over the island in places such as Panadura, Pannala, Koggala, Kandy, Mawathagama, Ratmalana, Biyagama, Chennai (India), Tulhiriya, Mahiyangana, Katunayake and the MAS Holdings office in Ratmalana are some of them. The firm has offices in New York, London and Hong Kong as well. They are all bursting at the seams with sports stars - past and present and perhaps sports stars of the future. Gymnasiums are available at all these MAS Holdings centers and gym instructors are just begging for action. It is a known fact that MAS Holdings gives first preference to qualifications (at least a degree in any given field and of course a sports background is preferred.

Anusha recalls with great delight her earlier connections with Slimline. "I had my sister Disna Dilrukshi at Slimline, Pannala and would visit her often. I was attached to Hamamgalle MV near Giriulla at that time where I was doing well in athletics.

I joined Silmline and was immediately plunged into rugby with Nilmini Jayasinghe showing me the ropes. Because of my athletics background I was picked for the rugby team. There were several experienced rugby players who coached us. In no time I was in the national pool and was picked for the Sri Lanka team."

Anusha's only wish is to do well for the country and the firm she represents.