Swept under the carpet though it's a heinous and highly sensitive issue, domestic violence is extensive in Sri Lanka. From rape and physical abuse, to seemingly harmless verbal harassment in public transport, Sri Lankan women have been grappling in recluse with the abuse for years as little has been done to address the issue.
Taking an initiative, Yohan Senerath, a product of Colombo International School and fresh out of school, is leading the issue out from the shadows and into plain view of the public eye with his chilling drama production. Having interned at the UNDP, he is also involved with several activist groups such as Beyond Borders.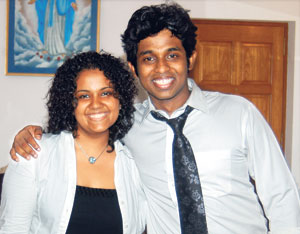 Co-Directors Yohan Senerath and Ashweni Miranda
"While I was working at the UNDP, my superior Mrs. Marini De Livera provided me with the script she had written on gender based violence, titled APEKSHA. She is a human rights lawyer affiliated with the UN and she has been a guiding light in this project. The play is conventional drama with song and dance to attract audiences while conveying a message—educating and entertaining them," says Yohan as he explains how he hopes to draw public attention to the gender based violence that's been overlooked in Sri Lanka for much too long.
The drama APEKSHA, is essentially about a girl who was conceived when her mother was raped. The lead character's harrowing and dismal life as she grows into adulthood while experiencing several forms of gender based violence is unravelled on stage.
Elaborating on what gender based violence is and how it's incorporated in the play, Yohan says "we've tried to include all components of gender based violence. In order to understand the drama, you need to understand the concept of gender based violence and many people have this misconception that gender based violence is only physical violence against women. But there's a lot more to it, it's about economic, social, physical and psychological harassment."
Together with Ashweni Miranda, Yohan has co-directed and co-produced the play having jointly formed what may very well be the youngest theatre troupe in the country. Their theatre troupe Dramatic Action consists of young adults within the ages of 15 to 20 and comprises of an equal number of girls and boys. Yohan states that the beauty of the theatre troupe is that they all have school commitments, their O/Ls and A/Ls, but even so they've dedicated themselves to this cause. He also adds that this is a testament that the youth of Sri Lanka is concerned about these issues as oppose to the popular notion that aren't interested in burning issues of the country.
| | |
| --- | --- |
| | |
"We've been preparing this for one month. The scariest factor is that in Sri Lanka we still have a patriarchal mindset where it's a male dominated society," says Yohan, adding that 51 % of the population comprises of women. "And naturally the emancipation and empowerment of women should be more intense than what it is apparent in Sri Lanka. And people haven't grasped that concept."
Ashweni describes how those of 'Dramatic Action' got first hand accounts of gender based violence by meeting with victims, "Members of Dramatic Action, Yohan and I, went down south and interviewed some of these women and that was intense because most of the women were suicidal. There was one woman who had attempted to burn herself. We also interviewed children to understand their experience with this, and when we asked about their fathers it was very sad to see them not talk as enthusiastically about their fathers as they spoke of their mothers, or refused to speak about them."
Yohan says the play would not have been possible without the support of the We Can Campaign, which is the main sponsor and Mr. Roshan Shajehan. who was instrumental in providing them with about USD 1800 to fund the play as well as the support of JWT. Other sponsors include Beyond Borders and print media sponsors, the Sunday Times.
The play is set to be staged at 7pm on December 21 at the British School Auditorium (Col-7) after a presentation on gender based violence and followed by a discussion on the topic and a presentation of a compilation of interviews with women and children who have been subject to domestic violence. All proceeds will be donated to the economic and social empowerment of women in the village of Thalpe. Tickets priced at Rs. 300/- and 400/-, can be purchased at Eymard House No. 19, Walukarama Road, Colombo- 3. For more information you may contact Harini on 0777617682 or Tahanee on 0774061392.