The health authorities advise the public to keep their social activities to a minimum this holiday season and thus reduce their risk to contracting AH1N1 influenza.
The high proportion – 65 per cent – of the cases of AH1N1 influenza recorded in the third quarter this year have been attributed to social interaction, according to Ministry of Health Epidemiology Unit head, Dr.(Mrs) Paba Palihawadane.The health authorities advise any person showing flu symptoms to wear a surgical grade face mask when going out or attending public events.
This is the season of community-based activities, with thousands out shopping and enjoying themselves, visiting shopping centres, attending parties and other seasonal events, and going in groups on trips.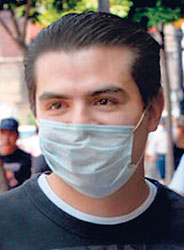 Surgical face masks are your best protection against AH1N1 flu. It also protects others.
"Over the past two months hundreds of patients have been treated with symptoms of AH1N1 at various Out Patients Departments," Dr. Palihawadane said. "Some 490 patients were confirmed as having AH1N1."
Colombo district reported 42 per cent of the total number of AH1N1 cases, Gampaha 13 per cent, Galle 8 per cent, and Kandy 6 per cent. The Western province accounted for more than half the total number of AH1N1case, at 56 per cent, while the Southern Province and the Central Province accounted for 13 and 11 per cent respectively.
"Most of the cases are from urban areas with large populations," Dr. Palihawadane said. "We advise people to avoid crowds and avoid creating crowds. That would help check the spread of the flu. At present, AH1N1 is spreading rapidly. By avoiding crowds and public gatherings you will help to control the spread AH1N1."
Anyone showing seasonal flu symptoms – such as coughing, headache, sore throat, fatigue or nausea – should seek medical treatment and wear a face mask when moving around in public.
The high risk group includes children five years and under; adults 65 years and above; pregnant women, and anyone suffering from assorted medical conditions. These medical conditions include asthma; neurological disorders; lung and heart diseases; blood disorders; kidney and liver disorders; those with weak immune systems and metabolic disorders, as well as those taking long-term aspirin therapy.
Of the 22 laboratory-confirmed AH1N1 deaths, five were from Kandy, two each from Matara, Kegalle and Galle, and one each from Colombo, Puttalam, Kegalle, Matale, Ratnapura, Nuwara Eliya, Moneragala, Badulla, Hambantota, Batticoloa and Anuradhapura.
"The Medical Research Institute, which is conducting the lab tests, says that of the 1,426 samples of suspected AH1N1 cases, 22 were confirmed," Dr. Palihawadane said. The majority of the AH1N1 cases are from the 11 to 30 years age group, the most socially active and socially mobile group. "Those in this category tend to move around a lot in public, take part in social events and travel, especially now that it is Christmas holiday time," she said.
The breakdown of AH1N1 cases according to age is as follows: infants 12 months and under, 2 per cent; 1-10 years, 24 per cent; 11-20 years, 28 per cent; 21-30 years, 21 per cent; 31-40 years, 13 per cent; 41-50 years, 7 per cent; 51-60 years, 3 per cent; and 60 years and over, 6 per cent. Females account for 53 per cent of the cases and males 47 per cent.
Seriously ill patients are sent from the National Hospital in Colombo to the Angoda-based Infectious Diseases Hospital (IDH), which last week set up a special Intensive Care Unit (ICU) dedicated to AH1N1 influenza treatment. "The unit is equipped with four cubicles and two ventilators, and we now have one patient undergoing treatment," IDH director Dr. Anura Senanayake said.
Dr. Senanayake said between 15 to 20 AH1N1 patients are currently receiving treatment at the IDH.
The commencement of the school vacation has resulted in a 50 per cent drop in the number of children contracting AH1N1, according to Central Province health services director, Dr. Shanthi Samarasinghe.
She said out of 10 AH1N1 suspected deaths, seven were confirmed as AH1N1 caused. She added that three of the child casualties had had long-term medical problems, and that almost all seven victims had been suffering from underlying medical conditions. It was discovered that one of the victims, a young male who showed now chronic conditions, had been a heavy smoker and his lungs were very vulnerable to the flu," she said.
In Kurunegala, the Ministry of Health is conducting a series of AH1N1 awareness-raising programmes. "We have had more that 300 patients getting treatment for AH1N1," said a regional epidemiologist attached to the Kurunegala Teaching Hospital. "Most of the cases were reported from Kurunegala town."
The Matara General Hospital treated between 55 and 60 suspected cases of AH1N1, of which 10 were confirmed. Three deaths were recorded, according to the Matara hospital director, Dr. (Mrs) S. Samarakoon.
GCE O/LEVELS : Separate exam halls for 'suspect' students
Special AH1N1 precautions are being taken for the duration of the islandwide GCE Ordinary Level, now under way.
The Ministry of Education, advised by the Ministry of Health, has issued a directive that all GCE O/L examination centres have separate halls for any student who turns up for the exam showing symptoms of influenza, Dr. Paba Palihawadane said.
"If an examinee has a runny nose or fever, or is coughing and sneezing, he or she will be seated in a separate exam hall and made to wear a face mask", said Dr.(Mrs) Paba Palihawadane, head of the Epidemiology Unit of the Ministry of Health.
Examinations Department Commissioner Anura Edirisinghe told the Sunday Times that parents were advised not send their children for the exam if they showed flu symptoms, and to take them to see the doctor instead.