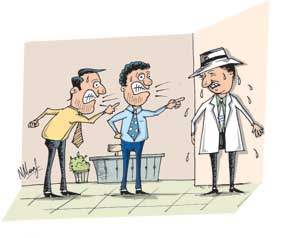 Showing their gas

The ones who were found guilty of bungling matters pertaining to the men in white coats are now trying to get their revenge. They are now cornering the guys who gave evidence against them to the commission and harassing publicly. Recently they had a meeting at the Citadel. After the meeting and once the big-wigs returned to their own official work places, the accused had singled out the poor commentator and berated him in the choicest of language.

Come with me!
The international school old girl who is a beauty is in high demand. Still all the Romeos at the Citadel are pitting against each other in a bid to take her out. Now the lot has given out a contract to their old office sweeties. The unofficial job is to somehow to get her to come out with them to go to a nightclub, which they often do with the Romeos on a regular basis.

Wheels within wheels
The Citadel tournament runners are in a quandary. There are cases filed in courts against them in Division One, Division Two and Division Three tournaments. Now the authorities are wondering how they are going to progress with these tournaments.

Hullabaloo
Since learning that a note has reached the house named after the flower trees on the doings at the Citadel, some are looking for ways to cover themselves.

Robert
Kumar who lives in the shades of the Big House and is even being looked after being caught for robbery is now being called "Robert" by the other employees.