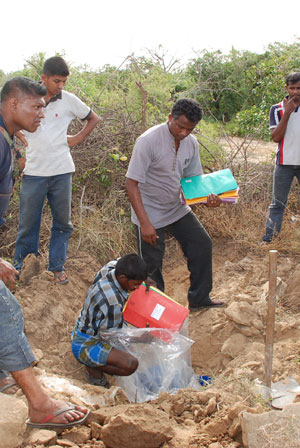 Detectives with the informant collecting the files containing vital LTTE documents
Bringing back the old look
Unfinished antiques. Intriguing isn't it? But that's what they are, antiques bought from different places but kept just like they are to enable the discerning collector to indicate what kind of finish they would like.
Motorists 'must' report accidents
The sustenance of the popular on-the-spot insurance product is in the balance with the strict implementation this month of amendments to the Motor Traffic Act by Police.
The magic of Apollo
One of Arthur C Clarke's "laws" states that "any sufficiently advanced technology is indistinguishable from magic". Some technological advancement take place over centuries, and some can occur within a single generation - leaving those who lived through it with that feeling of magic.
Selection and retirement policy
Recently there was this news item that some of the Mahendra Singh Dhoni disciples had decided to build a shrine in his honour and in another incident there were almost riots in the Kolkata region when former Indian skipper Sourav Ganguly had some problems with the country's cricket administration.
The most dreaded F word in town
Life at home comes to a standstill, for your child is running a temperature and that terrifies you. Bringing down the fever becomes your sole goal and you will do anything and everything to do just that.
Deadly diseases erupt in Vavuniya
Vavuniya-based United Nations staff providing relief services to the Internally Displaced People (IDPs) have been advised to keep away from the Vavuniya General Hospital due to an outbreak of meningitis and encephalitis, the Sunday Times learns.
Bitter battle over Kalu Ganga gems
A senior minister is leading a protest against the controversial auctioning of a section of the Kalu Ganga to private gem traders --- but officials concerned say the protest is orchestrated by an organised mafia with vested interests.
Don't write off the Right to Know
With the topmost priority being the elimination of the terrorist campaign in the North and East, the Government turned a Nelsonian-eye to the suppression of news and newspersons.
Mystery over major military shake-up
-Political Column
It was a week of dramatic developments. For President Mahinda Rajapaksa who has put a separatist war behind and a re-election bid ahead, the focus was all three - military, political and economic - as he charted a new, concerted course to usher in a greater peacetime environment and a new image for his Government.

He seems to accomplish nothing but headlines!
-5th Column
I thought I must write to you since you had also written to all members of the blue party alleging that there was a huge conspiracy within the party. Quite frankly, Avamangala, apart from getting you a few headlines the following day, I cannot imagine what you would achieve by all this.
The night of the pen at milestone of ten

It was that time of year, once again, when the scribes left their pens, computers and deadlines behind and gathered at the Mount Lavinia Hotel on Tuesday night to felicitate their peers at the Journalism Awards for Excellence 2008.
Esala pageant gets a start
Festival time is about to begin in Kandy, the hill capital. The annual Esala pageant – commonly known as the Esala Perahera – commences on Wednesday 22nd with the 'kap situvima' –
MOST VIEWED ARTICLES




LATEST NEWS