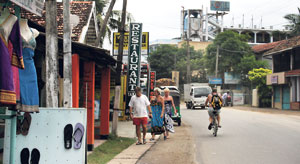 Over the years we have developed many special interest areas such as eco tourism (bird watching, hiking, Ayurveda etc) however we have to admit that our beautiful beaches are still the main attraction to this country. Picture shows tourists in Galle.
While on vacation in Colombo, I recently took a closer look at Sri Lanka's tourism sector. I have visited Sri Lanka on-and-off during the past 20 years (of working abroad) but this was the first time I decided to analyse the industry. Visiting several city hotels, resorts and round-trip hotels, I found that a lot hasn't changed for a long time. The standards are yet to improve.
The country's security situation has contributed negatively to the sector. Exclusive properties like for example Kandalama and Earl Regency which mainly depend on the rich and corporate business still survive. One entrepreneur has started a $1000 a night exclusive boutique hotel concept and seems like many are following him, however without good results.
Even in those exclusive properties attention to detail seems to be overlooked. Sri Lanka being a country with high humidity, with pests and insects have become a menace in almost all the properties. Hotels need to hire effective pest control companies to overcome this. It may be difficult to eradicate this, but it can be done and it has been done effectively in many countries like Singapore, Malaysia and areas like Houston, USA where there is high humidity.
Also to my surprise little is done to effectively market hotels. In my opinion when you have a hotel with a permanent staff and the hotel is virtually empty, you can pick the best employees from any department whether its house keeping, kitchen or maintenance, use them as sales agents and make the sales unit more effective and results-oriented. It is sad to see some hotels down south virtually empty.
At least an effort should be made to offer holiday vacations to middle-income Sri Lankan families through reasonable rates. Some managers have no clue as to what their operating costs per room or break-even points are. A hotel with some occupancy is better maintained than a hotel with no occupancy.
Another very important factor is that almost every hotelier is standing by high room rates. At a time like today the cost of running a hotel has increased tremendously. However most of these properties can afford to offer better rates than current ones. Even though the Tourism Promotion Bureau says they have taken many steps to improve domestic tourism it cannot be seen anywhere. We should have a way of providing affordable vacations for millions of teachers, soldiers in armed forces and government servants. This is part of our social responsibility to the nation.
It is my understanding that Sri Lanka has one of the highest landing and servicing costs per charter or scheduled plane in the world. Obviously the cost of tour packages will have to be revised due to the fact that airline costs, hotel rates and domestic transportation costs are impossible for foreign travel agents to offer better deals to their customers.
Besides most of the originating countries face recession, unemployment, etc which makes vacations more difficult to afford. Recently a reputed travel agent in Germany told me that her clients who patronized Sri Lanka during good times are now going to places like Thailand and Maldives and they are very comfortable with those destinations and their services. Sri Lanka has to offer more competitive packages and services to attract them again.
Sri Lanka will definitely come back as a popular tourist destination but at a slow pace. But all these responsibilities lie in the hands of industry professionals to improve our product and make them more affordable.
There is little infrastructure development in tourist resort areas in the past 20 years. The visit to the Colombo Museum and the Dehiwela Zoo was a shocking experience. These two places have gone 40 years backwards. The Museum is like a ghost house - leaking roof, dust and dirt everywhere and abandoned areas. Caretakers are virtually doing nothing. The Zoo has not improved a bit with the same old elephant show that I saw 40 years ago as a child.
Over the years we have developed many special interest areas such as eco tourism (bird watching, hiking, Ayurveda etc) however we have to admit that our beautiful beaches are still the main attraction to this country. We should also develop our duty free market concept mainly to neighboring countries.
On my visit to Nuwara Eliya it was disappointing to see that the city has developed haphazardly with no proper UDA planning, massive houses and in between small shanties, etc.
We must think of establishing "Performance Art Centres" in every major town such as Sigiriya, Kandy, Nuwara Eliya and Galle. We can perform different indigenous shows daily by local art groups or even schools there and provide entertainment for the tourists at sundown.
It's time to revive the 'Viceroy Express'. I remember reading a news article about 'LAKSALA' being a money-losing organisation.This needs to be revived and modern branches should be open attached to, say Performance Art Centres, whereby helping local folks to sell their products.
Except for a handful, 5-star hotels that I visited are either not clean or not maintained as star class hotels. It is time for the Sri Lanka Tourism Bureau to re-classify all the hotels and take a good look at all board approved properties before the tourism season begins. Recently I observed a pile of sand and pit of water in front of the entrance to a 5-star hotel in Colombo.
It is time to have a serious look at our properties their cleanliness, maintenance, staff training, etc. It is heartening to see most hotel staff still being cheerful and hospitable even though they lost a big part of their life and income due to terrorism. We have the best – let's keep it that way.
There seems to be unnecessary controversy over the new promotion 'Small Miracle'. I personally believe its a good tagline. Sri Lanka is a small island. It is a 'SMALL MIRACLE ISLAND'. It sounds good to say a small miracle. Now that we have spent money on it let it run and see the results.
My ideas may not be new to most of the professionals but the question is when are we going to act on these. Make a good bargain to local and foreign tourists of this beautiful land until we recover from these unfortunate times.
(The writer works in Texas, USA as a General Manager for the world renown Radisson Hotels and Resorts. While in Sri Lanka he has worked as a General Manager for several hotels and has also worked in the Maldives, Switzerland, Denmark and Germany.)