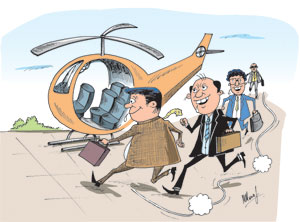 Domestic (helicopter) business is picking up after the war ended with more businessmen visiting various parts of the island looking for investment opportunities, an airline official.
"Local air traffic numbers (helicopters) are continuously improving because local firms, some with their joint venture partners and many other potential investors are visiting various parts of the island (seeking) to invest," Suren Mirchandani, Managing Director Deccan Aviation Lanka told the Sunday Times FT.
He said some investors are visiting the Northwest and the East coast mainly for tourism development.
The Southeast of the island is visited for agribusiness projects while the North is visited for oil refinery projects and Hambantota is a favorite destination for port and roads developments as well as other industrial investments," he explained, adding that local domestic travel has risen by about 50% to 60% since mid May. "We have flown more than a dozen firms since the offensive ended, "Mr. Mirchandani said.
Speaking about Deccan's future plans, Mr. Mirchandani said that the company is looking at becoming a scheduled airline as opposed to being a charter airline. "We have plans to launch a commuter aircraft to operate to all airfields in Sri Lanka while providing an airfare that is affordable."
He said the company will be purchasing a brand new commuter aircraft with American technology by the end of the year for this purpose. "This winter we will be purchasing it and the entire investment along with the ground infrastructure is US$ 1 million," he said, adding that this 6-passenger aircraft can serve all airports in the country in their (airports) current condition.
Deccan is also opening a representative office in Jaffna shortly. "This is to meet the rising demand," Mr. Mirchandani said, adding that the airline celebrates five years this month.