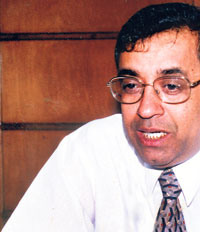 PBJ plea in Supreme Court next month
The fate of the high profile, former Treasury Secretary P.B. Jayasundera will be known on August 3 when the Supreme Court grants or denies leave to proceed on a motion filed by him seeking permission to take up the position of Treasury Secretary again.
In Court this week, Chief Justice Asoka Silva and Justices Shiranee Thilakawardena and S.I. Imam also directed attorney-at-law Faiz Mustapha who appeared for Dr. Jayasundera to issue notice on all the respondents.
Dr. Jayasundera who was once Chairman of the Public Enterprises Reform Commission (PERC) was forced out of serving in public office in any capacity last year following the Lanka Marine Services (LMS) judgment delivered by former Chief Justice Sarath N. Silva in which Dr. Jayasundera was found to have acted contrary to the law and was fined Rs.500,000 as compensation to the State.
At that time, he was the highest ranking public official ordered by the Court to pay damages to the State. The motion filed by Dr. Jayasundera came almost one month after Sarath N. Silva retired as Chief Justice in June following the Sri Lanka Insurance (SLI) judgment. The strongly-worded LMS judgment delivered in July 2008 stated that the entire process of the sales of shares of LMS to John Keells Holdings (JKH) had been without lawful authority under P.B. Jayasundera from the very commencement of the process.
The judgment goes on to say that as the then PERC Chairman, Dr. Jayasundera acted outside the authority of the applicable law. 'He has not only acted contrary to the law but purported to arrogate to himself the authority of an Executive Government.
His action is not only illegal and in excess of lawful authority but also biased in favour of JKH', the judgment stated. The judgment further stated that the allegation of the Petitioner that Dr. Jayasundera worked in collusion with Susantha Ratnayake, current Chairman of JKH, to secure illegal advantages adverse to the public interest was established.