Sports
---
Pakistan cricket at crossroads
The world famous cricket website Cricinfo says former PCB Chief Executive Officer Raja, Ramiz has become more noted as a cricket commentator than he was as an opening batsman or the Pakistan cricket captain- "Ramiz has become the voice of Pakistan cricket".

In the recent past Pakistan cricket has become more turbulent in the country than the game itself. In a game's point of view it became embroiled in many a controversy culminating from the ball-tampering affair to Bob Woolmer's death to the attack on Lankan cricketers in Lahore. At the same time the sensitive situation within the country also has kept away many a visitor from that cricket crazy sub-continent member for a period which is too long for comfort.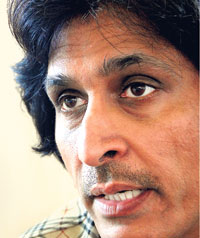 Ramiz Raja expressing his views. - Pix by Sanka Vidanagama



However if one analyses the situation very closely, though the game in the country has suffered immensely it is not the game's structure that is to be blamed for the situation, but a series of happenings that is too big for the game to handle.

While listening to the eloquent descriptions on the day-to-day proceedings of the ongoing Pakistan-Sri Lanka series the Sunday Musings felt that Ramiz was the man that we had to talk to about the current scenario in Pakistan including the basic structure of the game to where it's heading at present.

The affable man he is Ramiz took time out from his off day from cricket for a while to talk to us. First we asked him how the basic structure of cricket in Pakistan works and how it becomes a feeder point to the national grid. Ramiz explained "It is difficult to explain about a basic structure because there is no sequence as such. There may be a sequence on paper, but I feel it is the club cricket in Pakistan that is the hub and it is a very vital component in the growth of the game in the country. However at present its intensity has lessened because the new generation has got new flavours, but nevertheless club cricket remains a very vital component in developing young talent. Besides that we also have a reasonably good academy and the first class system that is the main feeder point".

Raja explained that in Pakistan there was no vibrant schools system. On many occasions the PCB had tried to infuse the game into the schools system but had failed, with lack of grounds being a major issue.

Then we posed the question as to how teenagers manage to break into the national team very frequently. Ramiz contributed that due to the passion for the game in Pakistan. He took an example of seventeen year old fast bowler Mohammed Amer who is doing very well in Sri Lanka in spite of their team failing to reach its expectations. "Mohammed Amer comes from a very remote part in Punjab. However his talent was spotted very young and the club cricket system wanted him to play in Rawalpindi. He was taken over by the club and was provided a home away from home which included even his education. However individuals like this come from outside the system. At the same time he had it hard from a very young age and that is why he looks a very mature cricketer at the age of seventeen."

The next question to hit Raja was about how the public reacted on being starved of international cricket -- "Obviously they are very disappointed. I am sure here in Sri Lanka or even in India cricket gives us a platform that unites people together. It is not a political platform, but a very healthy platform and people in Pakistan need that kind of entertainment. As a result of what is going on in Pakistan unfortunately, they are confused disappointed and frustrated. At the same time the Pakistan cricket team is also frustrated, if that incident involving the Sri Lankan Cricketers did not occur Pakistan cricket would have gone higher and higher, now it is difficult, now it will take a couple of more years for international cricket to comeback to Pakistan". Our inquisitiveness went a step further. We asked how Pakistan was going to cope with this situation in the short term and the long term. Ramiz said "In the short term solution, Pakistan has taken the game out of the country. However the impact on this can be negative. It can put people off. If you are starved of the game people can lose interest in the game. At the same time Pakistan also has a very strong cricket industry. They produce a lot of cricket goods. A situation like this can also lead to a melt down in the sports goods industry. At the same time even no teams have come to Pakistan to play hockey. It is a seriously bleak situation that prevails in Pakistan now.

"However things have to change for the better and it must begin with the Asian block. First you have to start small. If we could organize the under 19 teams of Bangladesh, India and Sri Lanka to tour Pakistan and gradually build up the confidence of the Asian block and then get them to send in their senior teams. I think that is the way to move forward, this can't happen overnight at least some international tours in the under 19 level or the academy level could keep the game alive in the country".

When asked what sort of a time frame that he was looking at Ramiz said "I cannot give you a definite time frame. The way things are happening, things are in such state of flux, there is a new situation developing after every twenty four hours. At one moment it looks good and in the next we are back to square one. I wish I could put my finger and say it would happen within a specific time line, but I can't. We can only hope for the best".

Finally when inquired about the allegation made by former selector Abul Quadir about dissention within the current team Ramiz Said "I got no comment to make on this. Obviously when you lose, people come up with sensational views. I cannot get very close to this lot however I think Pakistan lost the two tests for technical reasons. Pakistan did not lose the two Test matches because there was a split. A split can not develop so quickly – they have just won the T20 World Cup and a split can't happen so quickly".
|
E-mail
|
views[

1

]