Theva Residency in Hantana Kandy is the latest contemporary boutique hotel to open for business, promising serenity and rejuvenation. This hotel offers awe-inspiring views, edgy designs and sublime dining options. Ideally located along the slopes of the Hantana range, the hotel is surrounded by mountains with the bustle of Kandy town only two kilometres away.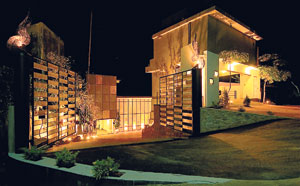 At the entrance
According to directors of the company, Theva skillfully mixes modern and traditional materials in its unique design. The entrance to this family-owned establishment is adorned with a row of head dresses used in the Perehera as a guide to the reception while a continuation of the theme and fusion of the traditional and modern can be seen in the dining hall. Fittings, table centres and even the avant-garde firewall bar are reminiscent of elements from the flamboyant Kandy Perehera.
Glass walls replace bricks, polished chrome sits comfortably next to traditional wood and funky lighting panels complement the traditional system. Across from the two grand and traditional doors at the entrance to the dining hall is an abstract take on an elephant's eye set into a golden wall.
The directors said Theva offers a range of activities from swimming in the infinity pool, using the in-house sauna or relaxing with a drink at the poolside bar. Other options include a special lounging area by the poolside. In addition, the deck and open-air seating outside the dining hall are ideal places for an early drink as the sun disappears over the hills. One can also mountain bike, hike or stroll through the Hantana area or tour the Kandy town, the Peradeniya Botanical Gardens and the Udawattakele Rain Forest.
Theva has 2 suites, a self-catered apartment, 3 balcony suites and 4 deluxe rooms. A unique feature at Theva is that it offers guests the option of taking the hotel's serviced apartment on medium to long-term lets. The spacious apartment, equipped with its own study, living and dining area, bar, kitchen and jacuzzi allows people to enjoy the luxuries of a boutique hotel while maintaining their usual lifestyle and privacy.