Who can forget the borukakulkaraya in Rekava? With his pet monkey, he walks along the road singing viridu – anuraapura polonnaruwa sigiri mana bandaneeya describing the grandeur of the ancient cities. A crowd of little ones follow him. He relaxes by the wayside and is joined by young Sena (Somapala Dharmapriya) and his playmate Anula (Myrtle). He predicts the boy has a powerful hand – that he will be a great healer.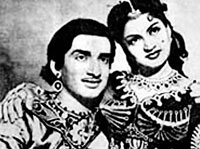 Sesha and Clarice de Silva in 'Mathalan'
The stilt-walker was one of several characters who made an impact in this maiden feature film of Lester James Peries. Then a young man in his late '20s, Sesha Palihakkara passed away a few days back having contributed his share to the progress of the arts in our country. He was 81.
In his last years, the grey moustachioed Sesha would be occasionally seen in his white, long-sleeved bush shirt and trousers with the look of a distinguished senior citizen. He was one. His rather silent service over five decades was not limited to any particular field. He was a choreographer, dance teacher, actor, make-up artist and film producer and director.
Inspired and guided by Chitrasena, he took to dancing. He sharpened his skills at Shantiniketan and at Kalashetra in South India, started to teach dancing and later joined the Indian dancer Ramgopal's travelling ballet troupe, which performed in Europe. Sesha broke into the cinema at the invitation of filmmaker S. M. Naygam who wanted him to handle the choreography of his film Ahankara Sthree. His break as an actor was in Mathalan where he played a dual role including that of the hero Mathalan. This was in the early fifties when Sinhala films were made in South India. The film was a box-office hit. Sesha was an instant hit himself. But he wasn't enamoured of being a star. He preferred to move over to the more meaningful side of cinema. He enjoyed the role in Rekava and being a member of a team interested in doing a classy product.
He worked in the make-up department in Bridge on the River Kwai, the award-winning movie filmed in Sri Lanka. He had another stint with the Ramgopal troupe and returned after having got membership of the Asian Music Society.
The sixties were a landmark era in Sinhala cinema and Sesha was in the forefront of this transformation. Sinhala films started making headway. Gamperaliya gave the lead. New themes were being tried out. New actors and technicians were getting a break. Sesha along with Mike Wilson and Arthur C. Clarke (both famed for their interest in underwater adventure) formed Serendib Productions. Their first production, Ranmuthuduwa (1962) created history as the first 35mm Sinhala feature film in colour. It featured underwater scenes of the ocean surrounding Sri Lanka. The second film, Getawarayo (1864) was a story about youth. Both films were directed by Mike Wilson. Sesha was the producer. Gamini Fonseka was the lead actor.
The third was Saravita (1965) directed by Tissa Liyanasurya and produced by Sesha. Joe Abeywickrema's performance as a simple saravita seller is still being talked about. Pandit Amaradeva got the freedom to try out something new in these films. The songs were popular and they won awards. The three films stood out as new experiments – a mix of popular and arty stuff. Recognition came by way of awards at the Sarasaviya Film Festival – the only one at the time.
Sesha tried his hand at direction with Lakseta Kodiya (1970), a Cinemas production and thereafter decided to take a back seat. Meanwhile, his services as a make-up artist was much sought after. In fact, he was an award winner in the field.
In 2007, Sesha was honored with a Ranathisara award at the Sarasaviya Festival for his contributions to cinema. Sesha was a pioneer who did his bit and didn't shout much. We appreciated his efforts.
Yet another stalwart has bid goodbye.