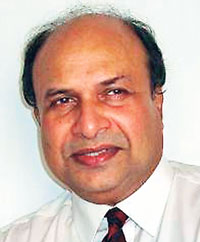 Tissa de Alwis
Tissa de Alwis, Managing Director of the Lanka Market Research Bureau (LMRB) will be stepping down at the end of July after 25 years of service in the organization and to the market research industry.
Mr de Alwis, one of the most experienced market research professionals in the country joined LMRB in 1984 as a Project Director after a brief stint with JWT, Sri Lanka. In October 1989 he was appointed as the head of LMRB, the first Sri Lankan to be appointed to that position. LMRB then was part of the UK based MRB Group, which was later acquired by WPP Group Plc.
A graduate of The Chartered Institute of Marketing (UK), Mr.de Alwis holds an MBA from PIM, University of Sri Jayawardenapura. He is also a member of the Market Research Society of UK and ESOMAR. He was elected as the President of the Sri Lanka Institute of Marketing (SLIM) for 95/96 and was a visiting lecturer for CIM (UK) students at SLIM for a number of years.
Mr. De Alwis will be succeeded by Preeti Reddy as CEO, LMRB. This appointment has been made by IMRB International. Ms. Reddy hails from Bangalore and has worked in senior positions in a number of key organizations in India, a note sent by Mr De Alwis said.