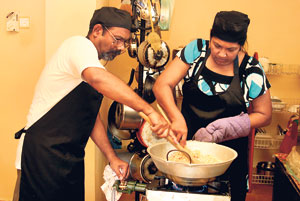 Rodney and Sujeewa at worka at work
A brand new health product is about to hit the markets, designed specifically to enhance nutrition for children but made for everyone to enjoy.
This unique rice-based product, fashioned after a granola bar, comes in two varieties, herbal and fruit.
Herbi Munch and Fruiti Munch, the creation of Rodney Leitch, Managing Director of The Rice, is a nutritious snack made from the best local ingredients like pineapples, mangoes, bananas, papayas and nourishing green leaves including gotukola and mukunu-anna.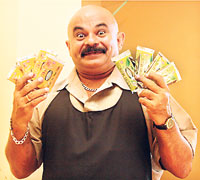 Ronnie
The product took almost a year in the making after Mr. Leitch approached the Industrial Technology Institute (ITI) with his concept which was nutrition for children and those who don't eat their quota of fruits and vegetables on a daily basis.
Mr. Leitch said the end product has been the result of a collective family effort including his wife Sujeewa and two daughters Lara and Meliza who came up with the names.
Mr. Leitch said he has approached supermarket chains, airlines and even some hotels to serve Herbi Munch and Fruiti Munch at the breakfast buffets as a healthy option. He said some schools have also shown interest in offering the products to their students.
The products brand ambassador is Mr. Leitch's cousin, Ronnie Leitch, the well known entertainer and singer, making the Herbi Munch and Fruiti Munch a true family endeavour.