Chitrasena, doyen of Sri Lankan traditional dance and its evolution, died four years ago on July 18. His accomplishments have been well documented and its results are manifest in his productions – not only in the theatrical masterpieces he was responsible for, but also in the production of Vajira, Sri Lanka's first prima ballerina, their daughter Upeka, who succeeded her mother in this role, countless numbers of students who include Ravibandu, Channa, and now Thaji, who is succeeding her aunt Upeka as principal dancer of the Chitrasena Dance Company.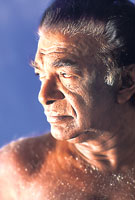 The Chitrasena Kalayathanaya, now in its 65th year, is also a monument to Chitrasena's accomplishments and continues to provide the facilities for community members to come and learn Sri Lankan dance forms and build a deep understanding of their heritage. But the Kalayathanaya also serves, the more serious dancers, dedicated to refining their technique, who want to become disciplined performing artistes who will strive to be true dance ambassadors for our country.
The Chitrasena Kalayathanaya, however, still struggles to establish itself as a well equipped institution due to the lack of funds and continues only due to the dedication and commitment of the Chitrasena family. Having finally been granted the space to establish a permanent location by then President Chandrika Kumaratunga in 1998, the family managed to raise sufficient funds to construct a temporary facility to serve as the Dance School at Elvitigala Mawatha, where classes, rehearsals and workshops are conducted regularly. It is still very much a 'family affair', with Vajira (who still teaches) as Principal of the school, Upeka as Director and guiding force, Heshma (Chitrasena's grand-daughter) as chief administrator, choreographer and production manager, Umi (grand-daughter) manager of administration, Thaji (grand-daughter), principal dancer in waiting and teacher, and Anjalika (daughter) conducting classes and producing children's ballets.
The most recent production by the Chitrasena Kalayathanaya was Kumbi Kathawa, a children's ballet produced by Anjalika in 2007 that received rave reviews.
It is being re-staged on August 28, 29 and 30, at the Bishop's College auditorium. This production exemplifies the quality that Chitrasena stressed, in terms of creativity, choreography, theatre arts and the evolution of the traditional dance into an eminent theatrical production. As usual, the Kalayathanaya is yet in search of sponsors and donors for this production, but are determined to go ahead, as a commemoration of Chitrasena's fourth death anniversary.
No doubt the maestro would have been proud of his family's dedication towards keeping his tradition alive. It would be fitting if the country recognized Chitrasena's inestimable contribution to the history of its art and culture by assisting in the establishment of a permanent institution to replace the temporary one to provide the facilities required of an institution of value - both in terms of its historical perspective and the quality that it has sustained in its productions and students. (JJ)