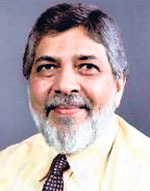 Fayaz Saleem
Sri Lanka's veteran head-hunter, Fayaz Saleem, also CEO of Executive Search Ltd and Aims, has successfully recruited a highly respected banker for a top management post in the Maldives.
The post of Chief Executive Officer of the Bank of Maldives was filled by Mr Saleem who head-hunted Ganesan Subramaniyam, a senior banker from Seychelles, another island nation.
"After short-listing suitable candidates from across the region and facing the challenge of having just 10 days to fill the position, Mr. Subramaniyam was selected after evaluating all the criteria necessary for this position," said Saleem.
"After a systematic process of identifying curriculum vitae's and interviewing several candidates from India, Pakistan and Sri Lanka a shortlist of candidates was presented to the bank from which Mr. Subramaniyam was selected," he added. Mr. Subramaniyam has now moved to the capital Male and resumed work.
With over 30 years of experience in headhunting and an equally impressive pool of possible employees, Mr Saleem has placed hundreds of top-end executives in key positions in Sri Lanka and across the South Asia region.