It was that time of year, once again, when the scribes left their pens, computers and deadlines behind and gathered at the Mount Lavinia Hotel on Tuesday night to felicitate their peers at the Journalism Awards for Excellence 2008.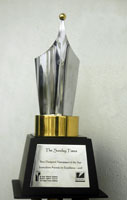 Editors Guild Trophy
The occasion was extra-special because it was also the 10th anniversary of the awards. The Sunday Times won four awards including the 'Denzil Peiris Young Reporter of the Year' which was bagged by Isuri Kaviratne and the Merit award of the 'Mervyn de Silva Journalist of the Year' which was secured by Christopher Kamalendran, along with two others.
Five Lifetime Achievement Awards were presented by the Editors' Guild to veterans pictured here. The top prize, the 'Mervyn de Silva Journalist of the Year' as well as several others were not awarded.
Amidst the celebrations there was a moment of poignant silence for Sirisa reporter Rashmi Mohammed who had paid the supreme price – dying in a bomb attack while doing his duty at Anuradhapura. He was honoured with the 'D.R. Wijewardene Award for Earning the Appreciation of Peers and Public' posthumously.
The Sepala Gunasena Award for Defending Press Freedom in Sri Lanka went to the Chief Editor of Uthayan (Jaffna), M.A, Kaanamylnathan and his staff. The annual Journalism Awards are organized by The Editors' Guild of Sri Lanka (TEGOSL) and the Sri Lanka Press Institute (SLPI).
Here is the list of winners:
Mervyn de Silva Journalist of the Year
Winner: Not awarded
Merit Award: D. Charles Peter of Metro News
Christopher Kamalendran of the Sunday Times
Janyitha Seneviratne of the Sunday Divaina
Business Journalist of the Year (Sinhala): Shyam Nuwan Ganewatte of the Sunday Divaina
Business Journalist of the Year (Tamil): Niranjani Roland of Metro News
Business Journalist of the Year (English): Bandula Sirimanna of the Sunday Times
Upali Wijewardene Feature Writer of the Year
(Sinhala): Sanda Laalith Ranasinghe of Silumina
Upali Wijewardene Feature Writer of the Year
(Tamil): Niranjani Roland of Metro News
Upali Wijewardene Feature Writer of the Year
(English): Randima Atygalle of the Nation
Merit : Chamitha Kuruppu of LakbimaNews
B.A. Siriwardena Columnist of the Year (Sinhala): Not awarded
B.A. Siriwardena Columnist of the Year (Tamil): B. Kirubaharan of Thinakkural
B.A. Siriwardena Columnist of the Year (English): Nanda Pethiyagoda Wanasundere of the Sunday Island
Best Environmental Reporter of the Year: Nimashi Amaleeta of the Nation
Subramaniyam Chettiar Social Development
Reporter of the Year: K. Ponmalar of Metro News Merit: Asuntha Sivumini Edirisooriya of the Sunday Lankadeepa
Sports Journalist of the Year: Channaka de Silva of the Daily Mirror
Cartoonist of the Year: Wasantha Siriwardena of the Nation
Photojournalist of the Year: Dinuka Liyanawatte of the Daily Mirror
Merit: Nishan S. Priyantha
Best Designed Newspaper of the Year: The Sunday Times
Merit: Daily Mirror & Ravaya
Scoop of the Year Award: Not awarded
Denzil Peiris Young Reporter of the Year: Isuri Kaviratne of th Sunday Times
Prof. K.A. Kailasapathy Award for Reporting under Special Circumstances: Not awarded
Investigative Journalist of the Year: Dr. Prasanna Cooray of the Island
Sepala Gunasena Award for Defending Press Freedom in Sri Lanka: The Chief Editor and staff of Uthayan
D.R. Wijewardene Award for Earning the Appreciation of Peers and Public:
The late Rashmi Mohammed of Sirasa
Lifetime Achievement Awards for Long and Distinguished Service to Sri Lanka:
Anula de Silva, P. Balasingham, Louis Benedict, Thalangama Jayasinha and S. Shanmugarajah
Louis Benedict receiving his gold medal from Tilekeratne Kuruwita Bandara

P. Balasingham receiving his medal from Manik de Silva

Anula de Silva receiving her medal from Sundara Nihatamani de Mel

Thalangama Jayasinha receiving his medal from Sarath Cooray

S. Shanmugarajah receiving his medal from A. Sivanesaselvan

Young Reporter of the Year, Isuri Kaviratne of the Sunday Times, receiving her award from Prabath Sahabandu, Editor of the Island.

D. Charles Peter

Christopher Kamalendran

Mervyn de Silva Journalist of the Year merit awards (Above Three): D. Charles Peter, Christopher Kamalendran and Janyitha Seneviratne receiving their certificates from chief guest Aruna Roy
Other Winners:

Pictures 1 to 5: Chief guest Aruna Roy being handed over a memento of appreciation by Kumar Nadesan; Dr. Prasanna Cooray, K. Ponmalar and Shyam Ganewatte receiving their awards and Asuntha Sivumini Edirisooriya receiving her certificate from Mr. Nadesan
Pictures 6 to 9: Dinuka Liyanawatte, Nimashi Amaleeta, Channaka de Silva, receiving their awards and Nishan S. Priyantha receiving his certificate from Chulawansa Sri Lal
Pictures 10 to 14: Niranjani Roland, Nanda Pethiyagoda Wanasundere, B. Kirubaharan, Randima Atygalle receiving their awards and Chamitha Kuruppu receiving her certificate from Ranjit Wijewardene
Widow of journalist Rashmi Mohammed receiving the award on behalf of her husband from Sharmini Boyle

Wasantha Siriwardena receiving his award from Kanchana Marasinghe

N. Vidhyatharan receiving the Sepala Gunasena Award on behalf of the Chief Editor and the Staff of Uthayan from Jatila Wellaboda

Sanda Laalith Ranasinghe with her award