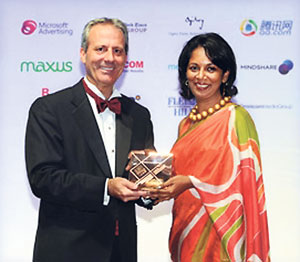 Chrishani Kotalawela, General Manager, Arc Worldwide receiving the AME award from Christopher Graves, President and CEO of Asia Pacific, Ogilvy Public Relations Worldwide.
The Sri Lanka office of Leo Burnett Solutions Inc. (LBSI), won a bronze at the recently concluded Asian Marketing Effectiveness Festival, according to a press release issued by the advertising agency.
The two-day Asian Marketing Effectiveness Festival was aligned around the effectiveness agenda, and was held in Hong Kong in May. The AME festival rounds up senior clients and agency management to debate communication effectiveness in the Asia-Pacific.
The AME awards were judged by 27 of the region's leading marketers, media and advertising agency executives. The Leo Burnett award was won for the Average Age promotion which they created for the Hilton Colombo. This was for an effectively utilized retail sales promotion to achieve set marketing objectives to attract diners. The innovative sales promotion titled 'AVERage' entitled guests to a discount in accordance with the average age of the people at the table.
The promotional idea included the creation of a range of beauty products named 'AVERage' which contrary to expectations, helped people to look older.
These products were set up on display at popular shopping malls and also at the Hilton Colombo itself.
The spoofed typical beauty promotional stand included promoters in uniform as well, the press release said.