The way forward with SIST
View(s):

The field of life sciences has undergone unprecedented growth in the past decades in conjunction with advancement in technology paving its way in achieving great heights. Advances in the fields of life sciences is not only evident in the global context but now becoming more and more pronounced at a national level, where application of biotechnology and microbiology is integrated within different fields; with major emphasis on product and process-oriented research & development for applications in healthcare and pharmaceuticals, enhancing crop production & agriculture for ensuring food security, promoting effective conservation & protection of biodiversity, as well as waste and pollution detection with development of integrated management systems for the betterment of living standards in society. Therefore, there is an expanding demand in developing countries to produced qualified trained personnel to cater to the explosive growth in research and development in the field of life sciences and technology.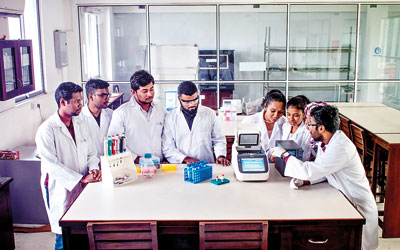 ABOUT SIST
Spectrum Institute of Science & Technology (SIST), pioneers in Life Science Education in Sri Lanka since 2001, is dedicated towards enhancing human capital and specially that of students aspiring to have a career in Life Sciences and Molecular Sciences. This establishment has grown from strength to strength over the years and is currently located in a 10,000 square feet facility. SIST is proud to announce relocation of the campus into a 25,000 square feet facility by early February 2019. The new campus houses 4 well equipped labs that are dedicated to the teachings of Molecular Biology, Tissue Culture, Biochemistry and Microbiology. Additionally, the campus comprises state of the art lecture halls, library and a large garden space which will be converted to badminton, tennis, basketball courts along with an in-campus greenhouse. Students enrolled at SIST campus have the opportunity to earn a highly reputed UK degree, with the opportunity to complete the degrees in Sri Lanka for a fraction of the cost. SIST are collaborative partners of Edinburgh Napier University, UK. These affiliations make it possible for students in Sri Lanka and South Asia to obtain a globally recognized and UGC (University Grants Commission) recognized degrees while studying in Colombo the commercial capital of Sri Lanka.
WHAT SIST OFFERS
The Edinburgh Napier University, is a UK University which ranks in the top 10 in terms of employability in the UK. All courses delivered by this esteemed university are career oriented. It is also the University with the highest overseas operation. ENU offers two full time life science programs in Sri Lanka BSc/BSc (Hons) Microbiology & Biotechnology BSc/ BSc (Hons) Biomedical Science. Students have the opportunity to enter this course with varied qualifications such as O/L, A/L, and HND. Students are able to obtain an internal UK degree while studying in Sri Lanka with the opportunity of having lecturers visiting from the UK to cover part of the program. The degree programs are designed to impart a strong base of theoretical knowledge supported with hands on experience in experimental understanding from basics to an advanced level through the course of the program, aiming to expose the students to the novel developments and techniques in the relevant fields. In addition, the program also elevates interpersonal skills of students through journal presentation sessions followed by critical analysis and discussions better molding students through the transition phase from a student to a knowledgeable and skilled personnel. Upon graduation, SIST students have been immensely successful with diverse opportunities for employment, postgraduate studies and further research in prestigious institutions of the continuously evolving disciplines of life sciences.
RESEARCH & DEVELOPMENT AT SIST
SIST has successfully established multi-sectoral collaborations with international and national stakeholders in leading research institutes aimed at production of knowledgeable, skilled and trained youth for establishment of an integrated community. Students at SIST are exposed to the practical industrial and research setting that better equip them in the future. Final year research projects are facilitated at prestigious research institutes including; Industrial Technology Institute and Human Genome Unit of the University of Colombo. International Collaborations with institutes have created excellent ground for internship and training programs.