After A/Ls Decide Wisely – No time for Trail & Error
Join ACBT to become a Global Citizen!
View(s):
Now that the AL results are released, are you thinking of the next step for your daughter or son? With so many options available today, are you confident that you are making the right decision? Have you decided whether your child will continue higher studies in Sri Lanka or overseas? Have you financially planned the next three years of your son's or daughter's education? These are some of the most important questions as parents many of you will ponder on. Making a wise decision is not easy and your child's future is not something you can exercise trial and error.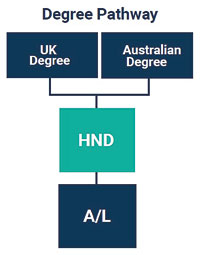 At ACBT, we offer several options for your child to decide when choosing their prospective education pathway. Affiliated with Edith Cowan University in Australia, ACBT provides an international education in Sri Lanka with an opportunity to transfer to Australia for further education. ACBT is currently the only higher education institute that offers a direct pathway to obtain an Australian qualification in Sri Lanka upholding the quality and standards of Australian education in the fields of Engineering, Business, IT and Health Studies.
Going beyond Australian education, ACBT also offers UK qualifications to provide students with a wider array of choices. ACBT's Higher National Diploma (HND), awarded by Pearson Edexcel – UK is considered the most affordable pathway to obtain a world renowned degree in Sri Lanka or overseas. It is also the only HND that provides a pathway to study in Australia. Equivalent to the first two years of the university, upon completing the HND, the student is eligible for advanced entry to complete the bachelors. Pearson BTEC HND has won the trust of students, parents, universities and employers around the world as a vocational qualification improving both practical skills and academic knowledge that are required to secure a job when stepping into the outside world.
ACBT, with more than 20 years of experience in the education field, is happy to assist and guide your child in choosing his or her prospective education pathway. We place the learner at heart of what we do and offer an education with cutting-edge facilities to gain knowledge, skills and self-confidence to meet the challenges of rapid global integration. Hence, your decision to enroll your child with ACBT could be the wisest decision in the right direction.
Enrollments have now started for the new intake. For more information, call ACBT on 0117 699 499 /
0117 565 511.
Visit us:- No 32C, Dickmans Road, Colombo 05 / No 442, Galle Road, Colombo 03
Website:- www.acbt.lk / www.acbt.net