Tenth Inaugural Professorial Lecture of College of Chemical Sciences
View(s):

Tenth Inaugural Professorial Lecture on "Classical Inorganic Chemistry for Challenges in the 21st century" by Professor Hema M K K Pathirana will be held on Thursday 24th January 2019 at 3.30 p.m.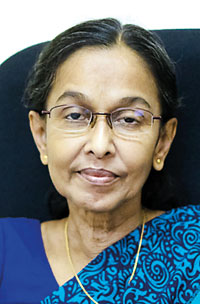 Prof. Hema M.K.K. Pathirana is a Senior Professor in Chemistry and the Chair Professor of Chemistry in the Dept of Chemistry of University of Ruhuna. She received her BSc Special Degree in Chemistry from the University of Sri Lanka, Vidyodaya Campus with a Second Class Upper Division Hons. Pass in 1977. She obtained her PhD from University of Aston in Birmingham, UK in 1985 in the field of Ligand Chemistry of Tellurium. There she received an Overseas Research Award.
She is a pioneering academic member of the University of Ruhuna. She has served as the Head of the Dept. of Chemistry for nearly 8 years and has served the Dept. of Chemistry for more than 38 years to date. She has served as a Visiting Professor at Texas A & M University, USA from 1988-1991 where she carried out research in organotellurium and organoselenium chemistry. She was awarded a Commonwealth Academic Exchange Fellowship tenable in University of Malaya and National University of Singapore in 1994. She was also awarded a Commonwealth Academic Staff Fellowship to carry out research in Green Chemistry at Imperial College, London, UK in 2008.
She has been an active member of the Sri Lanka Association for the Advancement of Science (SLAAS) for more than two decades and have served as the President of the Section E2 (Chemical Sciences), Chairperson of the General Research Committee and Science Education Committee and also as a member of the Council.  She has served as a member of the Governing Councils of the National Research Council (NRC) and Institute of Chemistry Ceylon. Presently she is serving as a Visiting Professor and the Dean of the College of Chemical Sciences of the Institute of Chemistry on sabbatical leave from the University of Ruhuna.