Dr Dinusha Weerawardane appointed to ACCA's Council
View(s):

ACCA (the Association of Chartered Certified Accountants) confirms today that ACCA member Dinusha Weerawardane has been appointed to ACCA's global Council.
With 36 elected members from all over the world, Council is the governing body of ACCA and a vital part of how the organisation is run. Council members work with ACCA's executive team to shape ACCA's future and develop the profession.

Dinusha has held ACCA membership since 2015, and has also served on ACCA Sri Lanka Member Network Panel CSR Sub-Committee in 2017. Like all Council members, her role is voluntary and carried out while she works as a lecturer and consultant in Sri Lanka.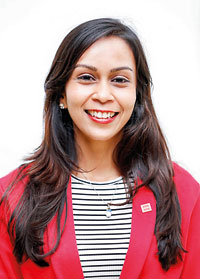 Nilusha Ranasinghe, head of ACCA Sri Lanka, said: 'Dinusha is an excellent ambassador for the profession both here in Sri Lanka and globally. Her passion and commitment for ACCA makes her well-suited to positively contribute to ACCA's strategy. We congratulate her on this election and look forward to our work together.'
Dinusha Weerawardane added: 'I have developed a good understanding of the issues facing the accountancy profession and as a newly elected Council member I intend to use my experiences to support members and students.
'On the global stage, we are entering into an era of technological revolution and I intend to support the Executive Team and Council in ensuring that ACCA remains at the forefront of the accountancy profession.'Dr Dinusha Weerawardane is a lecturer and consultant based in Colombo, Sri Lanka.
`She holds a PhD in Consumer Behaviour from the Cyprus Institute of Marketing, an MSc. in International Business Management from the University of West London, an LLB (Hons) specialising in Business Law from Staffordshire University, UK and a BSc. (Hons) in Applied Accounting from Oxford Brookes University, UK and is also a Chartered Manager.