Engineer your future at AIC campus Join the most affordable engineering degree program in Sri Lanka
View(s):

AIC Campus the first higher educational institution in Sri Lanka to offer French HigherEducation to Sri Lankan in collaboration with ESIGELEC Graduate School of Engineering, France, aPremier Engineering School established in 1901 has grown strength to strength during the last two years with more Sri Lankan students enrolling for the program.
ADVANTAGE OF SELECTING THE ESIGELEC ENGINEERING TRANSFER PROGRAM
ESIGELEC Graduate School of Engineering Degrees are recognized by the University Grants Commission (UGC), Sri Lanka.
14 Engineering Specializations Majors.
Study tour to ESIGELEC Graduate School of Engineering, France upon completion the first year of study.
Degree awarded is an Integrated MScin Engineering in your chosen area of specialization
IELTS Not Required
Eligibility to work 20 hours per week during studies in France
Paid Internships
Guaranteed Two-year work permit in France upon completion of studies
Easy access to European Union(EU) Member States
A comparatively guaranteed cost saver
Gain up to 25% Scholarship for academic excellence
Customized Study Loan Facilitiesthrough leading banks
The 2+3 transfer program offered at AIC Campus is the Most AffordableEuropean Engineering Transfer Program in the country approved by the University GrantsCommission (UGC), Sri Lanka. Students have the opportunity to study the first Two years in Sri Lanka at AIC Campus and transfer to the ESIGELECGraduate School of Engineering, France to complete the remaining three years of study.
At the completion, students are being awarded the globally renown Integrated MSc in Engineering in one of the 14 Major Areas of Studyat total cost of 65% less than studying in Australia, UK or USA.
ENGINEERING MAJORS AT ESIGELEC GRADUATE SCHOOL OF ENGINEERING!!!
Mechatronic and Electrical Engineering
Electronic Automotive and Aeronautical Systems
Automation and Industrial Robotics
Electrical Engineering and Transport
Embedded Systems Engineering, Autonomous Vehicles
Embedded Systems Engineering, Communicating Objects
Energy and Sustainable Development
Medical Engineering
Communications Engineering
Network Architecture and Security
Big Data for Digital Transformation
Digital Services Engineering
Business Engineer – Networks and Telecommunications
Business Engineer – Energy and Signals
Financial Engineer
The first batch of students who joined this transfer program in 2016 completed their first two years of study at AIC Campus and has successfully transferred to ESIGELEC Graduate School of Engineering to continue their studies in one of the 14 Majors they have chosen to obtain the Integrated MSc in Engineering. This is yet a milestone of AIC Campus as it made history getting a 100% visa success.
Few of our students who have successfully transferred to ESIGELEC Graduate School of Engineering to continue their studies:
Ms. Prashani Rodrigo, Lyceum International School, Wattala.
Ms. Poorni Ekanayake, Museaus College Colombo.
Mr. KavinduMahaduruge, Leeds International School.
Mr. Anouk Amarasekara, Stafford International School.
Mr. ThavinduSamarasinghe, Ananda College Colombo.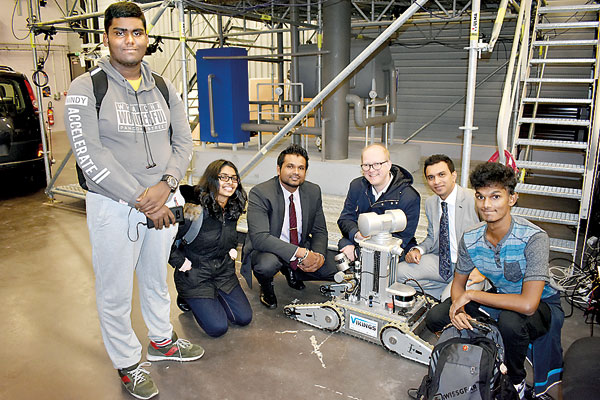 "Very happy moment for me and my batch mates today, the encouraging words from all well-wishers and especially H. E the Ambassador who welcomed us so warmly. I have to say that the AIC Transfer program gave me an opportunity to study two years and continue my balance three years in France to pursue my dream career. Learning French during our two-year period was the most interesting part and I would say the language is not as hard as many think. I am fluent in my French and Alliance Française De Kotte teachers brought us to this level with dedicated teaching" – Prashani Rodrigo an Esigelec transfer student from Lyceum International School, Wattala.
ABOUT THE ESIGELEC GRADUATE SCHOOL OF ENGINEERING
ESIGELEC Graduate School of Engineering is a specialized engineering school with over 11 decades of history behind them. ESIGELEC maintains high academic standards and their programs are structured with a practical approach to learning cycles where the students will go through a minimum of 9 months of internship in their chosen field of study in Major French and European companies.ESIGELECGraduate School of Engineering has partnered with over 3000 leading companies in France and European Union and also have partnerships with 85 universities in 40 countries.
About AIC Campus
AIC Campus is a Member of the IMC – AIC Education Consortium, a leading transnational
education service conglomerate established with a vision to provide total higher education
solutions under one roof. AIC Campus has partnered with a consortium of international
universities including ESIGELEC Graduate School of Engineering (France), Montpellier Business
School (France), IPAC Business School (France), James Cook University (Australia), Deakin
University (Australia) University of West England Bristol (UK) and National Technological
University of Belarus, which are recognized locally and internationally. AIC Campus offers,
Global University Foundation Programs, Global University Transfer Programs, Degree Completion
Programs in Civil and Mechanical Engineering, International Business and Marketing and Direct
Placements to leading Universities.
Admissions for 2019 intakes have opened now, therefore students and parents are encouraged to directly contact AIC Campus for admissions and inquiries.
AIC Campus Colombo -
0777 33 55 11
No. 154, Havelock Road,
Colombo – 05.
AIC Campus Kandy -
0777 2300 33
No. 21, Srimath Kudarathwatta Mawatha, Kandy.
AIC Campus Negombo -
0759 66 64 44
No. 349/2, Main Street, Negombo.