Graduate with a world class American Business Degree from Northwood University right after A/Ls or O/Ls
View(s):

…As the only leading American business University in Sri Lanka, Northwood University offers a wide variety of specializations in Hospitality Management, Management Information Systems, Business Finance and other multi-disciplinary concentrations leading to a Bachelor of Business Administration (BBA) degree.  Northwood offers extensive resources to instill CEO-level business acumen with a 'learn by doing' approach that delivers great value to harness students' abilities to excel in the real business world.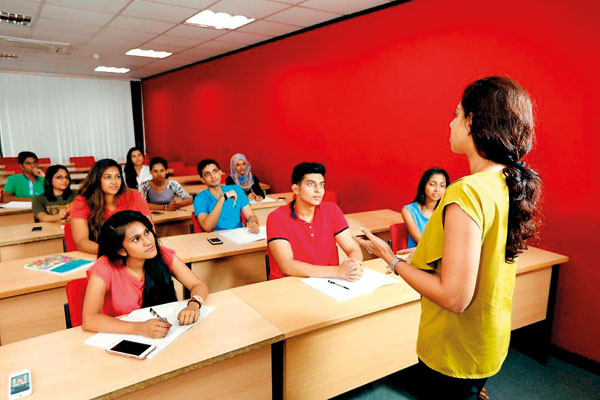 'Highest Return on your Investment'
"Best Value Business School" by PayScale's 2018 College ROI Report shows that Students graduating from Northwood University gain the 'Best Value on their investment' and the 'Highest Return on their tuition fees'. Graduating with a degree from Northwood means U.S graduates are the most sought-after in the world with U.S education system being ranked No.1 in QS Higher Education System Strength Rankings (2018). Northwood is accredited by the Accreditation Council for Business Schools and Programmes (ACBSP), which is an elite group of leading Business Universities in the U.S.A. and Northwood University is fully recognised by University Grants Commission (UGC) of Sri Lanka as a foreign university & accepted in U.S.A., Canada, U.K., Australia, New Zealand, Europe & Middle East for employment and delivering highest standard of higher education.
A Northwood University Education at ANC
ANC Education's long-standing partnership with Northwood has opened new doors for Sri Lankan and regional students to study at ANC, the premier American Business School in Sri Lanka, and become sought-after graduates with a World Class Business Degree from Northwood University (NU), USA. Sri Lanka's No.1 U.S Education provider, ANC offers a rich student life and encourages every student to nurture their innate talents and potential, creating open conversation and collaborative culture, fostering stronger bonds and teamwork that allows every student to shine.
The Northwood-ANC partnership has made it possible for students to save up to 70% of the cost of reading for the same degree in the USA, and to have access to the same standard of education as practiced in America and receive their 'Academic Transcripts only from Northwood University (identical to those of their US counterparts)'. Northwood-ANC partnership has established a phenomenal record of career success for ANC graduates that specialized in Business majors of their choice with industry-specific curriculums equipping them to be job-ready, motivated and ready for rapid career advancements with a 'conquer any challenge' mindset.
Northwood offers Dual degrees and 7 specialized Business majors (BBA)
Northwood Programmes continuously ranks in the top ratings from independent reviewers due to the constantly updated curriculum in diverse majors taught by some of the World's finest faculty; whether you study in the US or at our International Accredited Centers around the world, the quality of the delivery stays intact ensuring optimal results.
ANC, in collaboration with Northwood University, offers a range of degree programmes to choose from:
BBA International Business
BBA Management
BBA Hospitality and Tourism management
BBA Management Information Systems (MIS)
BBA Entrepreneurship
BBA Marketing
BBA Finance
The academics combined with internships and experiential learning opportunities provide students the hands-on experience. In addition, students develop strong analytical and communication skills that are vital to success in any career. What's more, ANC's business students stand the great opportunity to boost their earnings and competitiveness in the job market by earning a 'Dual Major and Minor options' as part of the Business degree program from Northwood University. Dual Majors are available in the following curriculum combinations:
Management + International Business
Management + Marketing
Management + MIS
Management + Hospitality
Management + Finance
Management + Entrepreneurship
Marketing + International Business
Hospitality + International Business
Minor options are available in 42 curriculum combinations. Students have the option to do a Minor in either Hospitality, Marketing, Finance, Entrepreneurship, International Business or in our latest new additions to our curriculum :
1.   Digital Marketing Minor
2.   Data Analytics Minor
3.   Cyber Security Minor
GPSI (Guaranteed Paid Student Internships) programme:
The prime objective of the GPSI programme is to ensure that our students gain hands-on experience and exposure to real-world problems and issues that perhaps are not found in textbooks. ANC Education has partnered with over 30 top Corporates to provide guaranteed job placements for ANC Students. In addition, there are several other benefits enjoyed by ANC students:
earning both academic credit and a salary
cultivating adaptability and creativity in a dynamic world
refining their skills
strengthen their resumes and make a career network for themselves, which would come in handy in the future
evaluate specific companies or specific careers prior to committing to full-time employment—a "try before you buy" type experience
unpaid internships are less likely to help grads-to-be get a job; on the other hand, paid internships guarantee students a career upon graduation
Several multinational companies such as MAS Holdings, Virtusa, Samsung, DIMO, Hilton, Cinnamon Hotels and Resorts, Hayley's, have welcomed ANC students as interns, and most of them have been able to secure full time employment in these organisations upon graduation. They are also given opportunities within these companies for faster advancement and growth.
ANC allows students to find employment immediately after graduation with high profile placements in the industry, and the feedback from the industry attests that ANC graduates are highly effective in employment and invaluable assets to any organisation. ANC Education's Bachelors of Business Administration (BBA) degree offers immediate pathways for students to qualify for a Master's in Business Administration (MBA) enabling ANC students to continue their higher education journey with ease and convenience to further their career goals.
Students after A/Ls or pending O/L results can now secure enrollment in the degree programs mentioned above. For more information, please contact/ visit us at:
0777 301 103 |www.ancedu.com| No.308 – 310, R. A. De Mel Mawatha, Colombo 03
322, Peradeniya Road, Kandy
 or follow us on Facebook: https://www.facebook.com/ancedu/ and "ANC_Education" on Instagram